Losberger De Boer wins build contract for Riyadh City Race Circuit
Global mega-sporting events specialist Losberger De Boer has secured the temporary structure build contract for the upcoming electric Grand Prix set to make its debut in Riyadh.

The Saudi Arabian capital will host the opening round of season five of the global race calendar in December 2018, which is expected to attract international visitors to the city under the country's new major-event online visa scheme.

International temporary structures specialists, Losberger De Boer, will build the 190 metre-long pit lane building together with second floor hospitality and viewing facilities. The build site located in Ad Diriyah, the historic centre of the Saudi Arabian capital, faces an existing public road that will be closed for qualifiers and race day between 12-15 December.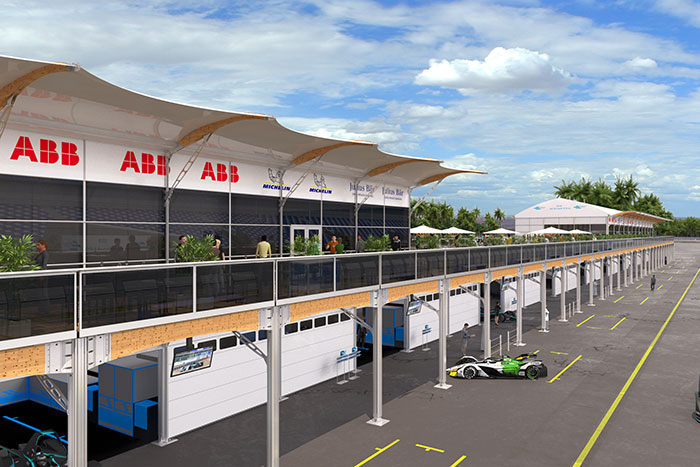 Losberger De Boer will be responsible for project managing turnkey delivery of the entire pit lane structure to support this event within a tight 40-day build timeframe together with rapid dismantling immediately following race day.

Paul Machin senior sales manager of Losberger De Boer Middle East said, "Functionality and delivering an optimal viewing experience are key concerns for the organiser, so in light of this we were pleased to be able to deliver our Emperor and Premier products using ISO 14001 environmentally-certified processes. This ensures the needs of the planet are carefully balanced with delivering optimal race day performance, while providing an unrivalled visitor experience for guests.

"Critically, our team follows a carefully planned project management process to ensure tight build and dismantling times are met. Since the race track is located in the centre of a busy working city, our team works hard to keep disruption to local residents and businesses to a minimum - this is an area of expertise for Losberger De Boer," concluded Machin.

With close to 700 projects every year, Losberger De Boer also delivers the world's largest temporary event overlay for the bi-annual Farnborough Airshow in the UK and installs temporary structures annually at the largest global trade fair, Bauma, in Germany. Last year, Losberger De Boer also built the Middle East's largest temporary exhibition hall, Bay X, at King Abdullah Economic City in Saudi Arabia and also built the Baku City Race Circuit event overlay for a major international Grand Prix motor sports racing event in Azerbaijan.