Lunar Smart Glass: Privacy & Clarity
In the technological world we live in, privacy is rare. At the same time when we think of glass, we imagine a material with translucent properties and limited privacy. With LCD glass, you can have it all. This technology-driven glass wall utilizes Liquid Crystal Display technology to provide privacy at the click of a switch. This system, also known as "Smart Glass," is a cutting edge solution for the interior environment. The primary component to this solution is the intelligent glass and corresponding electric current. This provides a multi layered approach, compressing Electrified Privacy Film within a clear adhesive and glass shell at each end. This electrified privacy film uses approximately 3.5 Watts per square meter (0 Watts in Privacy). With our installation, we provide a 1'' simplistic aluminum head and base as standard, along with choice of stainless steel, or timber tracking. Once installed, LCD glass can go from private to translucent in 1 millisecond.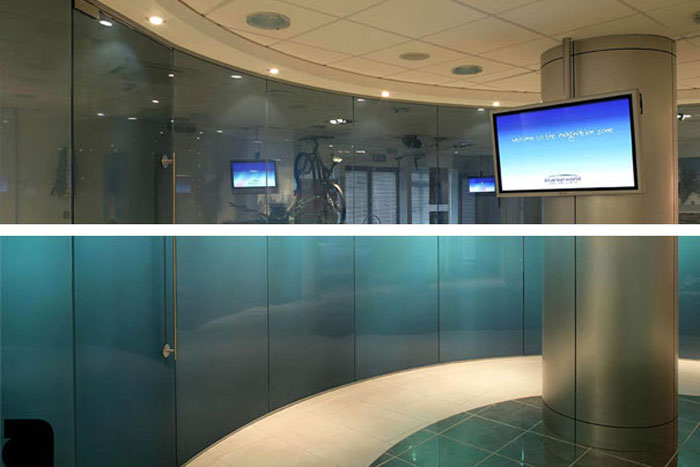 When activated, Lunar Liquid Crystal Display provides a visual light transmission rating of 70%. Liquid Crystal Display is ideal for isolating rooms and spaces. Available applications include offices, conference rooms, showrooms, exteriors and storefronts. With a click of a switch, the inner workings of any space will be shielded to the naked eye, providing heightened security and aesthetic value. LCD glass preserves a seamless design, using a Translucent "H" in between modules. Optional colors and graphics are available to create a customized aesthetic within your environment and design.

Product Details:
Lunar LCD Smart Glass balances perfectly between stylish glass partitions and the privacy of a traditional wall.

Key Features:

Low power consumption
Sensor capabilities
Private to transparent in 1 millisecond
Optional colors and graphics available
Solar reduction up to 40%
Glass Options:
Laminated LCD privacy glazing
Special glass thickness is achievable
Curved applications available
Door Integrations:
Premium Sliding glass doors
Single glazed (Acoustic) doors
Double glazed (Acoustic) doors
Advanced Privacy Options:
Avanti Systems USA presents
Lunar™ Privacy Glass Walls
with Low Haze technology. Our smart film switchable glass partitions utilize PDLC (Polymer Dispersed Liquid Crystal) technology which allow completely transparent glass walls to go from clear to private in 1 millisecond. Avanti Smart Glass is available for integration with any of our floor to ceiling or free standing glass wall systems. Lunar™ can also integrate into customizable curved and linear applications.
Download Specification & Details Sheets
Get a quote Now!