Mammoet Installs New FCC Reactor Head at Germany's Largest Refinery
The FCC plant of the Mineraloelraffinerie Oberrhein (MiRO) in Germany received a new FCC reactor head as part of a major scheduled turnaround. During the preparatory phase of the turnaround, Mammoet already unloaded this new reactor head at port and transported it by SPMT to the pre-assembly area in the refinery. There, the heaviest and largest single component, weighing 270t, was temporarily stored on a pre-assembly rack until it was finally to be replaced.

Since 2018, Mammoet had worked in close cooperation with the client MAN Energy Solutions SE und MiRO to establish the feasibility of the project, and the smoothest execution method. The reactor head was to be pre-assembled as far as possible to save time during the turnaround.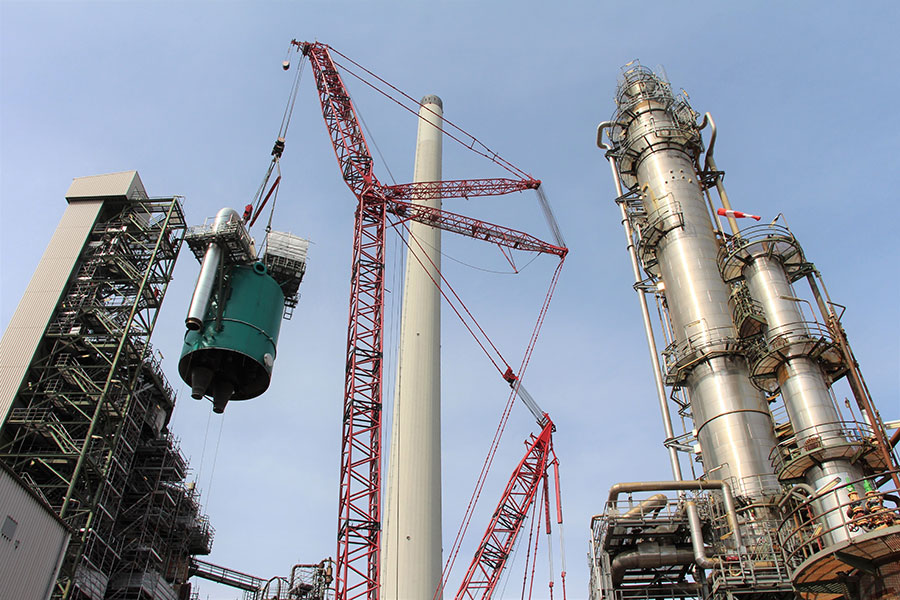 The engineering concept was as follows. A CC6800 crawler crane would be used in continuous day and night shifts to replace the pre-assembled reactor head. It would also be used for all other heavy lifts in the FCC plant.

Due to the confined conditions on site, the crawler crane had to be assembled before the start of the turnaround, as the only access road to the FCC plant could not be closed. However, sudden wintry weather delayed the erection of the crane. Nevertheless, through joint efforts on site, the deadline for lift standby was met.

For the rigging of the reactor head Mammoet used its in-house developed 'Center Of Gravity Adjustment System' (COGAS) winch. The old component was then safely lifted out within a very confined physical space, before being placed on a transport rack on 2x12 axle lines of SPMT and transported to the pre-assembly area in the refinery.

"The SPMT transport through the refinery had to pass through several narrow points with only a few centimeters of clearance. In addition, a temporary bridge had to be built in advance over an underground pipe track so as not to exceed the maximum ground load capacity," says Sören Müller, Project Manager at Mammoet.

Four weeks later, the new reactor head was moved in the same manner from the pre-assembly area to the FCC plant, rigged with the COGAS winch, lifted into place and installed.

During the turnaround, a storm came up. The wind speed was so high that the boom of the crawler crane would need to be lowered. However, this would have blocked the only access road to the FCC plant, which would have meant an interruption to all other work. Thus, another solution had to be found.

"Based on the technical capabilities of the CC 6800 and in cooperation with the crane manufacturer, an alternative and also safe solution was found at short notice using the suspended ballast, which ensured the stability of the crane even without laying down the entire boom system.", Müller explains.

Despite the challenging weather conditions, and the additional complicating restrictions due to the coronavirus pandemic, the overall schedule was met.

@mammoetglobal #mammoetglobal #mammoet #heavylifting
Website:
https://www.mammoet.com