Mammoet to Deliver Two Onshore Oil Rigs from United Arab Emirates to Oman
Mammoet's factory-to-foundation services optimized the transportation of oil rigs and its accessories by managing the complete logistics chain from the factory to the final destination.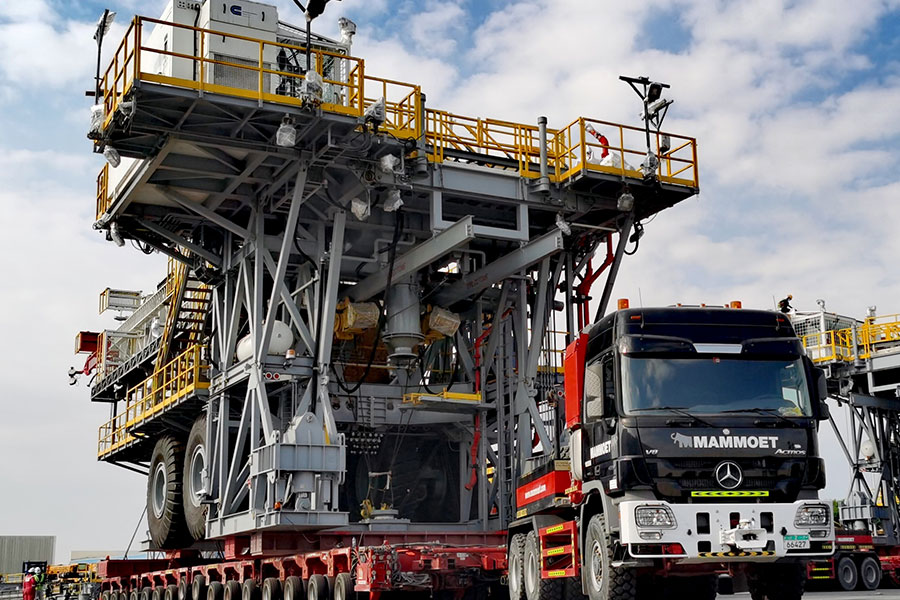 Mammoet, the global heavy lifting and transport specialist, is contracted by Khimji Ramdas Shipping (KRS) to safely deliver two pre-assembled onshore oil rigs and accessories from a fabrication facility in the United Arab Emirates (UAE) to the site in Nimr, Oman.

Manufactured in the UAE, these new generation fast moving rigs are a new addition to the current fleet of Oman's largest drilling company - Abraj Energy Services SAOC.

Shipping of oversized and heavy cargo requires specific expertise, as infrastructure limitations create bottlenecks that demand alternative transport approaches. At 37.7m long and 10.7m high and up to 471t, the sheer size and weight of the pieces meant Mammoet had to compose an optimal route for the cargo by performing the necessary route studies and obtaining required permits.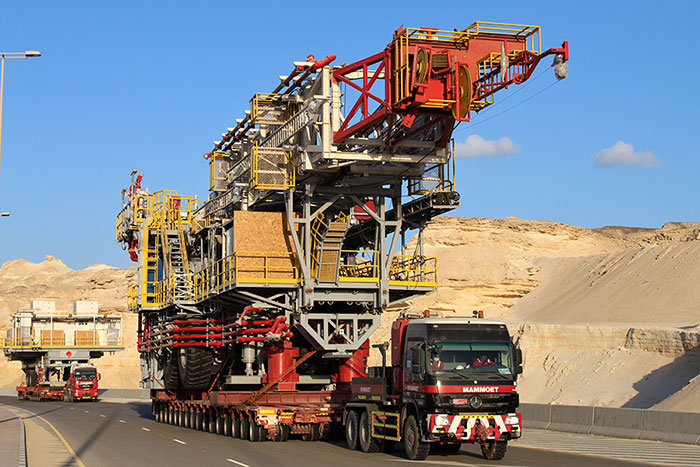 Advanced preparations were needed, including road infrastructure modifications to temporarily replace over 100 streetlight poles and traffic signals, plus construction of temporary bridges protecting underground electrical cables and pipelines, to ensure transport safety and infrastructure integrity. The route also crossed the UAE's most frequently used highway - E11 - connecting Abu Dhabi with Dubai.

Each rig comprised three major parts and three smaller parts, weighing 147t – 471t and the largest rig component measured up to 37.7m long x 13.5m wide x 10.6m high.
They were jacked up onto beams and stools at the fabrication facility in Jebel Ali Free Zone, then transported to the Port of Jebel Ali using conventional trailers and trucks. The cargo was then loaded-out at the port onto a Mammoet 300 class barge for onward shipment to Oman, where it was received and loaded-in at the Port of Duqm. From there, the rig sections were transported over a distance of 400km to the site in Nimr.

Muthu Esakki, Project Manager, Khimji Ramdas Shipping, said: «The prompt logistics for the movement of the packages based on the client's timeline was critical to the overall success of the project. KRS and Mammoet team worked closely and managed the end to end logistics from UAE to Oman. The challenge was to overcome hurdles arising due to the sheer size of the packages and moving them between two countries using sea and road mode. This involved extensive coordination and support from the Government authorities in both countries and we are thankful to all stakeholders for their support."

Ali Kobeissi, Project Manager, Mammoet, commented: "Teamwork and cohesive collaboration with government authorities and police, in both the United Arab Emirates and Oman, were the key to mitigate risks and have all permits in place. Thorough planning and coordination ensured we were able to meet the needs of our customer by safely delivering the rigs to their final location."
@mammoetglobal #mammoetglobal #mammoet #heavylifting
Website:
https://www.mammoet.com