MAPEI showcases complete and economical stone installation solution at the Middle East Stone Exhibition
MAPEI, the leading manufacturer of adhesives, sealants and chemical products in the construction industry, will highlight two of its most powerful product lines at the upcoming Middle East Stone Exhibition. Dedicated to the stone, marble and ceramics industry, the four-day event is taking place on May 22-25 at the Dubai World Trade Centre.

MAPEI is heavily involved in the construction market by supplying a variety of products to the numerous flooring installers in the region. Products vary and include adhesives, grouts, screeds, sealants, self-levelling compounds, resilient flooring and much more.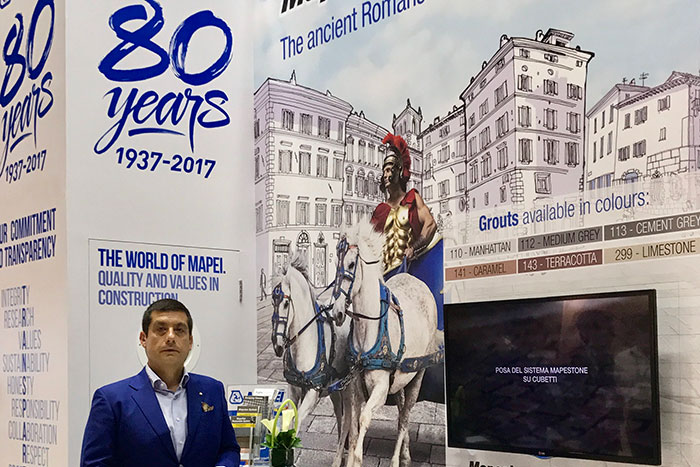 During the exhibition, Mapei will launch Mapestone System, which is a complete solution to obtain durable, long-lasting architectural stone road surfaces resistant in extreme temperatures. Featuring exceptional characteristics that produce high durable finished work that saves time and money in maintenance or repairs, these pre-blended cementitious products are used for stone and screed installation, block stone paving, and grouting joints and architectural flagstone. The combined use of these products creates a long-lasting monolithic structure, and is widely used for repairing ancient pedestrian zones and streets.

In addition, Mapei will display the new colored grouts, the only one of its kind in the market for the vastness of its range of products and the wide choice of colours. A range that meets every requirement in ceramic tile laying, whatever the surroundings, whether it is residential, commercial or industrial. The colours are divided into five different collections: Serene, Traditional, Natural, Romance and Glamour. The aim is to make it easier to choose the right grout according to the requirements of each particular project and the personal preferences of each client.

Moreover during the exhibition, Mapei will focus on highlighting a range of products for LVT floors and is launching "Flexcolor 4 LVT", an acrylic flexible grout which, when fixed on a luxury vinyl tile (LVT), allows the installer to create an effect similar to the joints between stone and ceramic. This product was used on all the floors of Dubai Future Foundation, a government entity that provides innovative services integrating both public and private sectors. The product complies with the certified eco sustainability standards and international programs aimed at safeguarding health and the environment.

Stefano Iannacone, Regional Director of Mapei Construction Chemicals LLC, said: "We see a huge potential in the market for LVT with the increasing amount of hotel and domestic refurbishments in the UAE. Additionally, with the upcoming projects in the pipeline due to the approaching Expo 2020, we have witnessed an increase of architecture stone suppliers using cement mortar. Through this
exhibition, we are looking forward to sharing our best product systems and know-how in supplying reliable and economical solutions."

Displayed at this year's stand slabs representing some of the prestigious projects in Dubai that MAPEI is proud to be part of:

Dubai Opera: Known as one of the most cutting-edge architectural complexes and challenging technical projects, Dubai Opera was provided with the perfect solution for its varied and complex grouting needs for its main lobby areas by Sital Marble using MAPEI adhesives and extensive grout range.

Bollywood Park: MAPEI was also involved in the tiling work for common and public areas of Bollywood Park within the Dubai Parks and Resorts. Through fit-out company Plafond, MAPEI was selected to provide solutions addressing challenges such as heat and humidity damage caused by the country's extreme temperature, and intense wear and tear caused by the amount of expected visitors; and

The Viceroy Palm Jumeirah: A five- star resort situated on the trunk of the iconic Palm Jumeirah. MAPEI was proud to have been involved in all aspects of the hotel's construction – with building solutions being offered in different stages of the project.

MAPEI si located at stand 6B57 in Hall 6 during the Middle East Stone Exhibition taking place at the Dubai World Trade Centre from May 22 to 25, 2017. For more information, please visit: www.mapei.com.
Website:
http://www.mapei.com