Margraf Marble a Natural Material for Exteriors
For over a century, Margraf has been the partner of international architects in creating their master works in Italy and abroad, becoming an icon of genuine Italian excellence all over the world. Ever since the construction of the first skyscrapers in the United States, a countless series of major projects have followed, including the Coca-Cola Building in Atlanta, the IBM Tower in Georgia and the new World Financial Center in New York City, designed by Pelli Clark Pelli Architects, Terminal 3 of the new Beijing airport by Norman Foster, and many more. Today, Margraf marble and natural stone are a "must" in luxury developments.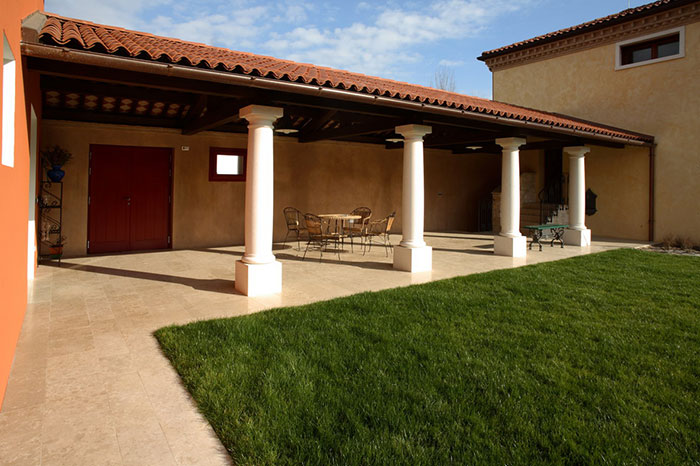 The long tradition in marble working and in the range of natural materials for the environment-friendly quality building and architecture has led the company to achieve excellence in the matching and selection of finishes, sizes and shapes that can enhance the exteriors of private homes, residential complexes, hotels and public spaces.

Margraf marble offers its own vision of space providing a unique interpretation: external cladding and curtain walls, as well as stairways, designer fountains, benches and outdoor flower holders with a unique and unequivocal character.

Natural materials that enhance, creating a modern and refined elegance, perfectly meeting the needs of design, durability and strength, to provide architects and designers manifold aesthetic solutions through a broad range: Bush-hammered or flamed Blu Perla and Crema Nuova; bush-hammered, flamed or scored Lipica Fiorito and Lipica Unito; bush-hammered Pietra Ducale and Trani. Various modular sizes are available including 30x30 cm, 40x40 cm and 30x60 cm, as well as 30 or 40 cm, free length, all 3 cm thick and over.

According to standard UNI EN 1341:2003, all Margraf marbles for external paving have tested to be freeze-resistant and hence suitable for cold temperatures after 48 freezing and thawing cycles.

Margraf also offers exclusive materials from its own quarries, such as Lipica Unito and Fiorito, Pietra Ducale, both fossil marbles, extracted in Slovenia and Italy respectively.

Margraf's technological research has developed a number of surface finishes that can be used to obtain a unique finish as well as a high degree of slip-proofing for exterior paving.