Margraf Marble, a Protagonist in Milan's Redevelopment City Life Project
Margraf, with its associate Marmor Sezana, has been selected by CityLife together with the One Works design firm, to create the outdoor paving of CityLife, the ambitious urban redevelopment plan for the former Milan Trade Fair area, covering an area of about 255,000 sqm.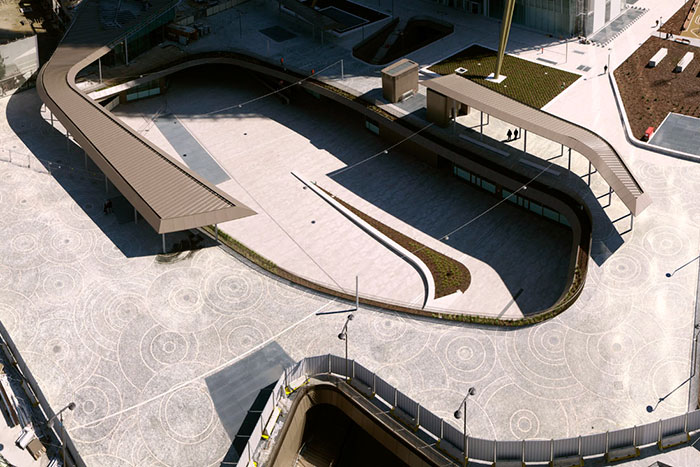 The key structural and redevelopment element of the new neighbourhood will be the large public park, one of the largest in Europe once finished. Covering about 170,000 sqm, it provides for the integration of cycle and pedestrian paths and broad direct openings on the surrounding neighbourhoods. The new park will also complete the group of parks in the north-western area of Milan, creating an effective ecological network. In this context, Margraf Lipica Fiorito, extracted from the quarries in Slovenia of Margraf's associate Marmor Sezana, a grey marble with more or less visible fossil remains and thin whitish veins, is the main protagonist of the space. It is a natural stone that is particularly suitable for exteriors, since it does not frost, as proven after 56 frost-thaw cycles. Free-length slabs of Lipica Fiorito with two different non-slip finishes—bush-hammered and scored—were used for the paving.

In the Tre Torri Square, at level 129, the paving contributes to shaping the spaces by creating a hierarchy. The Lipica stone slabs, laid perpendicularly to the towers, define their space, while the remaining part of the square features a paving in Luserna stone cubes with inlays of Lipica stone, arranged in the circle using a traditional technique that creates though a surprising pattern.

The rich paving of the Tre Torri Square matches its institutional nature and contrasts with the simplicity of the pattern of the paving at level 122, whose more fluid nature tends to re-establish a bond with the park, Via Domodossola and Sei Febbraio Square.