Masdar and the Land Art Generator Initiative Announce Winning Designs
The Land Art Generator Initiative (LAGI) and Abu Dhabi Future Energy Company (Masdar) have announced at the 24th World Energy Congress in Abu Dhabi the winners of this year's LAGI international design competition. Sponsored by Masdar, LAGI 2019 Abu Dhabi challenged design teams to create large-scale works of public art that also produce clean kilowatt-hours for the Masdar City grid using technologies such as solar and wind.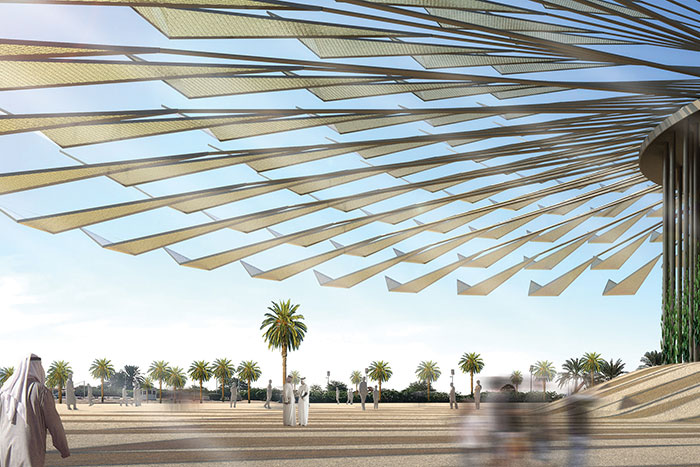 Ricardo Solar Lezama, Viktoriya Kovaleva, and Armando Solar
"Masdar is proud to sponsor this special edition of the LAGI competition, in the same year that Abu Dhabi has the privilege of hosting the 24thWorld Energy Congress. It is fitting that the capital's flagship sustainable city is supporting the competition, which complements the holistic approach that Masdar City takes towards urban development based on the three pillars of economic, social and environmental sustainability," said Yousef Baselaib, Executive Director of Sustainable Real Estate at Masdar.

"Held under the theme of 'Return to the Source', on behalf of Masdar, I'd like to warmly congratulate this year's first and second prize LAGI winners. I hope that their designs can inspire others to use culture and renewable energy to further the global energy transformation," Baselaib added.

Beginning with the inaugural edition for Abu Dhabi and Dubai in 2010, LAGI competitions for sites around the world have continued to demonstrate how beautiful our cities will be once we have made the transition to a sustainable future. By merging culture, art, and clean technology, LAGI artworks captivate the collective mind of popular culture, stimulate our desire for beauty, and increase the popularity of a swift transition to renewable and carbon-free forms of energy.

This year, LAGI returns to the UAE—to the canvas of a prominent new public park within the next phase of Masdar City's development. The winner of LAGI 2019 Abu Dhabi, Starlit Stratus by NYC-based Sunggi Park, is a perfect example of this new way of approaching the design of our cities. The winning artwork uses a tessellation of solar modules that change their appearance throughout the day and transform into glowing orbs at night. While creating a dynamic public space filled with shade and mist, the artwork, if constructed, would provide Masdar City's grid with 2,484 MWh of clean energy annually.

Second place went to Sun Flower, by Ricardo Solar Lezama, Viktoriya Kovaleva, and Armando Solar—a kinetic sculpture that utilizes the potential energy of its own weight to store energy collected during the day through solar panels in its petals, which unfold in a performance at each setting sun. Each year, the artwork would contribute 1,400 MWh of clean energy to Masdar City's grid.

Robert Ferry, LAGI Founding Co-Director, states: "The great energy transition provides the perfect platform for creatives to sit at the helm of designing our energy landscapes. The entries to LAGI 2019 Abu Dhabi for Masdar City show us how we can design new cultural landmarks with our new energy infrastructures—places that can stand for generations and serve as lasting monuments to this important time in human history."

Thanks to the Masdar's support, the Starlit Stratus team will receive US$40,000 in prize money, and the Sun Flowerteam will receive US$10,000. Out of nearly 300 submissions from 65 countries, 28 teams were shortlisted.

LAGI 2019 Abu Dhabi is supported by Masdar and held in partnership with the 24th World Energy Congress, taking place from September 9–12, 2019, at the Abu Dhabi National Exhibition Centre. The LAGI 2019 exhibition will run during the entire event.

@poweredbyart #poweredbyart @Masdar #Masdar @WECongress #WECongress