Massive airport developments in Middle East to push global aviation growth
Global firms to make regional forays through Airport Show 2016 Middle East airport developments to push global investments
The Centre for Asia Pacific Aviation (CAPA) has revealed that spending on airport construction projects globally has risen to over US$441 billion. Highlighting Middle East airport developments as key to global investments in the sector, CAPA states that the trend is relentlessly upwards, with over US$30 billion worth of airport investments underway or planned in the UAE alone.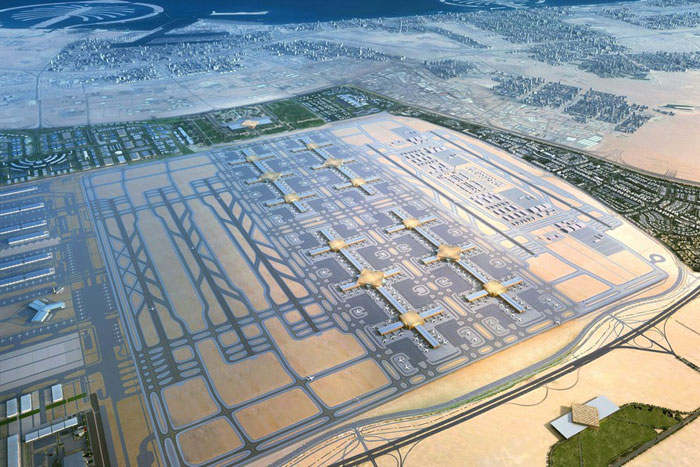 Al Maktoum International Airport, Dubai, UAE
The massive regional airport developments and infrastructure investments will come under the spotlight at the 16th edition of Airport Show , the world's leading B2B airport industry event, taking place from 9-11 May 2016 at the Dubai International Convention and Exhibition Centre (DICEC). Held under the patronage of His Highness Sheikh Ahmed Bin Saeed Al Maktoum, President of Dubai Civil Aviation Authority (DCAA), Chairman of Dubai Airports and Chairman and CEO of Emirates Airlines Group, the event will be collocated with the 4th edition of Global Airport Leaders' Forum (GALF) and World Travel Catering & Onboard Services Expo Middle East, the region's largest dedicated exhibition for the travel catering sector.

Key airport projects in the Middle East include:
Al Maktoum International Airport, Dubai
, entailing an investment of US$32 billion. The airport, that has a projected annual capacity of 12 million tonnes of freight and 160-260 million passengers, has already completed a 66,000 sqm terminal with 64-aircraft bays and a 4.5 km runway.
Dubai International Airport
is undertaking a US$7.8 billion airport and airspace expansion programme to boost capacity at the Dubai International from 60 million to 90 million passengers by 2018. The plan involves the construction of additional terminal space and concourse areas spanning an extra 675,000 sqm of floor space. Cargo growth is expected to reach 4.1 million tonnes by 2020.
The Ajman International Airport Project
, entailing an investment of US$600 million, is expected to be completed by 2018. The airport will process over 1 million passengers every year.
Abu Dhabi
will have a new airport terminal complex commissioned by 2017. The US$2.9 billion project will effectively double the capacity of Etihad Airways' home base to about 30 million passengers annually. The 700,000 square meter terminal building is one of the key strategic infrastructure projects to be undertaken in the UAE capital, and will initially handle 27 million passengers per year.
King Abdulaziz International Airport, Jeddah, Saudi Arabia
, started its three-stage development with a budget of over US$1.5 billion, with the goal of catering to over 30 million passengers. The first phase includes a 400,000 sqm terminal complex tower, control tower, access roads and utilities. Phase 2 and 3 will take the airport through to 2035 when it will cater to 85 million people.
Bahrain
is undertaking a US$1 billion expansion of Bahrain International Airport to raise its capacity to 13.5 million passengers annually. The expansion will witness the construction of a new passenger terminal of more than 150,000 sqm and other buildings including all general civil engineering, mechanical, electrical and plumbing (MEP) works, aircraft parking, car park, interiors, exteriors and other related works by 2018.
The Sultanate of Oman
has earmarked US$6.1 billion over five years for aviation projects, which includes major terminal developments at Muscat and Salalah international airports, and completion of four new regional airports at Sohar, Ras al Hadd, Duqm and Adam. While eight per cent of the US$6.1 billion is earmarked for the completion of the four regional airports, 92 per cent is allocated for the two primary airports in Muscat and Salalah. Due for completion this year, the Muscat International Airport in Oman will handle over 12 million passengers annually and will be expanded to further accommodate 48 million passengers.
Sharjah Airport
is waiting to complete its 2030 master plan. Much of Sharjah's growth over the past decade has been fuelled by the Gulf's first low-cost carrier, Air Arabia. Sharjah International reportedly handled 7.5 million passengers in 2012, a 13.6 per cent year-on-year jump from the previous year. Sharjah International will review its expansion every five years until 2030 and measure its response to growth.
The Middle East aviation sector has among the highest growth markets in the world. With airlines across the world expecting over 3.7 billion passengers this year, and the Middle East taking a high share of this, airport expansion is imperative. This expansion also brings in a plethora of opportunities for product and service providers in the aviation industry and allied sectors and Airport Show 2016 provides an ideal platform for global industry players to tap into these opportunities worth billions of dollars.