Meet the Tech Disruptors Who Are Shaking Up the Construction Industry
What will the future of construction look like? At The Big 5, industry professionals can get a glimpse of tomorrow and discover the most innovative products that will soon shake up the construction sector.

Running from 26 to 29 November at the Dubai World Trade Centre, the largest construction event in the Middle East launched its brand new Start-up City this year. Here, start-ups selected by prominent industry experts from organisations of the calibre of Expo 2020, BuroHappold, and AECOM, display their innovative solutions and pioneering products throughout the four days of the show.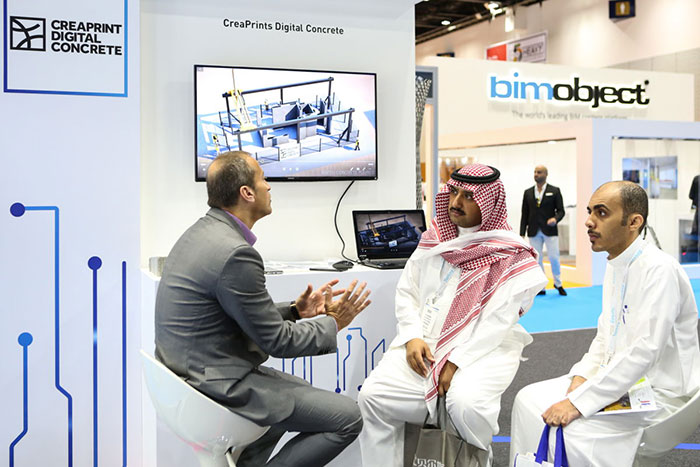 A collection of visionary ideas that address the built environment's most pressing challenges, The Big 5's Start-up City is a blend of high technology and bold entrepreneurship.

Ralf Steinhauer, Director MENA at RSP Architects and one of the experts who helped to identify the most innovative companies for the Start-up City, said:

"Innovation is and will be key to driving the construction industry forward. The AEC (architecture, engineering and construction) industry should prepare for fourth industrial revolution. With clear digital workflow and clean data, limitless possibilities can be opened with the current computer science technologies thanks to tools such as AI (artificial intelligence), IoT (internet of things), and 3D Printing."

On November 28, the 15 start-ups participating at The Big 5 will challenge one another at an exciting Start-up City Pitch Competition.

"At The Big 5 this year, we've set up a program to support these brave, young, innovative companies," said Josine Heijmans, Portfolio Director at dmg events. "Beyond providing a prime platform to promote their ideas and products in front of over 65,000 industry professionals, The Big 5 will donate a prize worth USD 25,000 to the most innovative start-up selected by a panel of judges through a competition."

Xavier Canal, founder of Copil+, one of the start-ups participating in the event, said: "With Radja Mardaye my shareholder and friend who owns a background in international concrete companies, we are proud to be part of the Start-up City during The Big 5 in Dubai.

"Our goal is to become a leading provider of building solutions within the next five years, evolve and maintain our expert system to generate increasingly innovative automatic construction processes with machine learning capabilities: project management solutions for the construction, maintenance and operation of buildings and road works," Canal added.

Majid Janabi, Founder of the Abu Dhabi based EXSORED Limited, also at the Start-up City, said: "A few years back, positive thoughts came to my mind to establish a company that specialized in standardized, reproducible green buildings. The drive was to reduce cost, construction time and CO2 emissions. Our vision for the next five years is to make the standardized, reproducible, sustainable, solar building system globally acceptable, as an alternative for both residential and commercial projects."

Another start-up that will compete at the Start-up City Pitch Competition is Concreative LLC, a newly settled company in Dubai, which provides fully integrated services in large-scale concrete 3D printing. "Because of our civil engineering experience, we intend to develop a strong expertise in 3D print structural elements," said Vincent Maillet, Concreative LLC's Operations Manager.

"Our mission is to provide the technology and services able to satisfy the UAE's strategy in the construction sector as instructed by H.H. Sheikh Mohammed bin Rashid Al Maktoum, Vice-President and Prime Minister of the UAE and Ruler of Dubai, to 3D print 25% of all new buildings by 2025," Maillet added.

The Big 5's Start-up City also hosts a cloud-based platform for residential and commercial property development projects from the UK, NuWu.com. Lawrence Rankin, the CEO of the company, commented: "Founded in October 2016, NuVuw is growing quickly with the goal of becoming the collaborative ecosystem connecting property developers, architects, interior designers and construction professionals at every stage of their project

"With NuVuw, we decided to focus on the end-to-end process where collaboration is essential for taking an initial idea through the design stage and onto the build phase and successful handover. Visualising the end-to-end process was critical to keeping it simple and easy to use."

At the Start-up City, Ruchik Vora and Deesha Vora present their Smart Scheduling and Real-Time Progress Tracking Software, SuperWise. "There are many tools available to track financial progress (cost) of the construction project, but limited options to monitor Schedule and Quality," they explain.

"Our proprietary construction scheduling software can reduce the time to planning construction projects by up to 90%. With the SuperWise mobile app professionals can track project progress in real-time with live photographs from the construction site. Superwise sends out intelligent alerts warning for probable delays in the project."

MEET THE START-UPS AT THE BIG 5:
Aasaan Tech
develops tech solutions which help construction business at macro level to digitize their operations at an extremely reasonable cost. The efforts and resources involved in data duplication and restoration is eliminated saving hassle, time and cost.
AutoVRse
helps Enterprises harness the power of VR/AR. AutoVRse develops immersive and photorealistic sales tools, marketing experiences and training modules that revolutionise the way businesses operate.
BIMMUNITY
aims to empower all parties concerned with the efficient management of properties, facilities, assets, and resources in the built environment by developing state-of-the-art technology solutions including automated operation and maintenance, performance monitoring and tracking, advanced asset and property management, advanced task and project management, and decision support systems. These "Software as a Service" (SaaS) solutions are cloud-based, therefore reducing deployment cost, time, and operational costs and risks.
Concreative LLC
is a newly settled company in U.A.E., Dubai, providing fully integrated service in large-scale concrete 3D printing. Concreative LLC aims to provide the technology and services able to satisfy U.A.E strategy in construction sector: 25% of the construction in 3D printing by 2030. Thanks to its innovative technology, developed by XtreeE, it can merge architects' ideas and engineers' constraints.
Copil+
is an expert system for collaborative and real-time site management connected to the BIM (building information modelling). Copil+'s solution offers implementation of construction processes and is connected to both construction site and 3D digital models. The software is intended to interoperate with project owners, project managers and companies with machine learning capabilities.
CreaPrints Digital Concrete
is dedicated to bringing 3D concrete printing technology from lab to fab by offering modular 3D printing systems and a seamlessly integrated information platform to the local and regional demanding construction markets. CreaPrints Digital Concrete have developed this technology as a turnkey Design Build Solution with suitable concrete material mix, fully automated hardware and the corresponding software.
El Mawkaa App
is a platform which connects all construction industry stakeholders in one place in the MENA region. It empowers construction firms and professional engineers, designers, and contractors by letting them market their experiences, apply on online bids, and buy construction materials through El Mawkaa platform by using machine learning.
Exsored
is introducing a building system that has minimal negative impact on our planet. The company produces optimized reproducible building systems in regard to the sustainability, simplicity, cost, and construction time.
Immensa Technology Labs
is at the forefront of applying additive manufacturing (3D Printing) services on a mechanical and industrial level in the region and one of a few companies globally
that is offering full 'Inventory Digitisation' and 'Virtual Warehousing' services to companies in the construction sector in addition to product development and R&D.
MX3D
is a robotic software company, which focusses on architectural scale metal 3D printing. Its flagship project is printing a fully functional stainless steel bridge for the city center of Amsterdam, completed October 20th 2018.
NuVuw.com
is a cloud-based software-as-a-service platform for residential and commercial property development projects. NuVuw.com offers a comprehensive and integrated web and native tablet app solution for the residential and commercial property developer, professional service provider and enterprise business to connect, collaborate, and seamlessly manage every stage of their project.
SuperWise
is a real-time mobile-first construction project management SaaS (Software-as-a-Service) that brings transparency and timeliness to project execution. Its easy-to-use solution can seamlessly integrate with existing processes and help achieve on-time and in-budget project delivery.
Time Control Technologies
is developing a software application for real time monitoring of employees, enabling/empowering Project Managers in the oil, gas and construction sectors. Time
Control Technologies provides insights to project managers and company owners that help them save time, money and possibly lives.
WakeCap
is an IoT-based enterprise solution to improve safety & productivity at the construction site. Construction's poor productivity leads to 98% of the construction projects incurring cost overruns or delays due lack of connectivity, slow information sharing and a lack of automation on site. WakeCap Enables real-time field reporting via integrated sensors into the existing personal safety equipment & connecting jobsites via wireless mesh network technology.
2crowd.com
is a B2B platform to create and industrialize innovative plastic products online. 2crowd.com has already created products that have 47 patents around the world, and has expertise with 150 products created and launched.
The 15 start-ups are among the over 2,500 companies from more than 60 countries exhibiting at The Big 5 this year. These are clustered in five dedicated sectors: MEP services, Building Interiors & Finishes, Building Envelope & Special Construction, Construction Tools & Building Materials, and Construction Technology & Innovation.
The Big 5 Solar, the Urban Design & Landscaping Expo, HVACR Expo, Middle East Concrete and The Big 5 Heavy will run as part of The Big 5 this year, creating one mega construction event from 26-29 November at the Dubai World Trade Centre.