Mega-Projects Boost UAE Design Market to USD 36 Billion by 2019
The UAE's design market will reach USD 36 billion in 2019, fueled by architects and interior designers leveraging innovations such as felt to enhance the experience, experts announced today ahead of The Big 5 in Dubai.

Boosted by innovative architecture and interior design projects, the UAE's design market will grow by 13 percent from USD 32 billion in 2017 to reach a record-high of USD 36 billion by 2019, according to the Dubai Design and Fashion Council.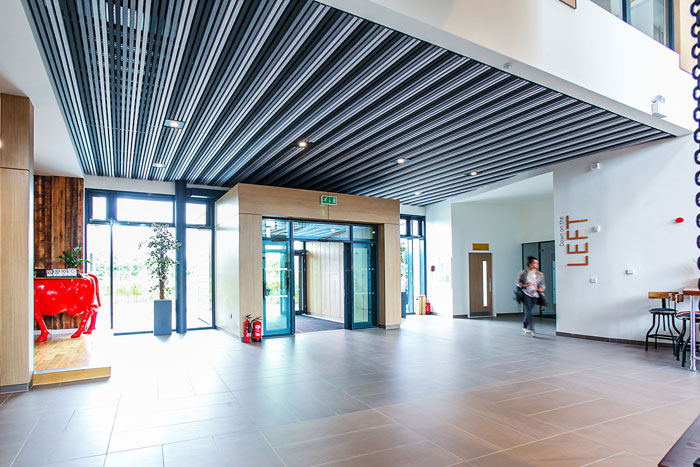 HeartFelt™ linear ceilings from Hunter Douglas Architectural: The Moneypenny Headquarters in Wrexham, United Kingdom.
The Middle East and North Africa's design market will grow by 15 percent to USD 148 billion in 2019, with interior design growing seven times faster than the global average.

"The UAE and the Middle East are global hubs for showcasing how architecture and design innovations can transforming how we work, live, and play. At The Big 5 Dubai, designers can experience how felt can provide safe, comfortable, and cost-effective experiences, from sports stadiums to office towers and metro stations," said Santhosh Vallil, Sales Manager for the Middle East at global architecture and design consultancy Hunter Douglas.

Supporting Middle East construction and design innovation, the Hunter Douglas felt linear ceiling system HeartFelt, is seeing strong demand in the region. After its regional launch earlier this year, HeartFelt is now expanding its colors tones to black and white, plus five new earth tones -- cream, light brown, medium brown, dark brown, and umber.

HeartFelt is made out of felt, a natural, soft material with a warm appearance and excellent acoustic properties. Both the felt and the panels are cradle-to-cradle certified in sustainability. As a result, earlier in 2017, HeartFelt was awarded the prestigious Red Dot Award for Best of the Best in the Product Design category.

"With the earth tones palette, it is possible to imitate the natural look and feel of wood. Now that the range has twelve colors, designers are even better equipped to create dynamic, visually attractive ceilings with HeartFelt. By varying the color schemes, designers can create a truly eye-catching design," said Pieter van Rees, Business Development Manager for Ceilings at Hunter Douglas.