Metamorphosys – Texture Table by Flavio Albanese
Margraf's skilful art of shaping marble in all its forms and the creativity of Flavio Albanese, a world-class designer and architect, have come together to create "Metamorphosys – Mutable spirit," a unique, large-sized designer table that is perfect to enhance any office or home.

The mutable spirit of the "Metamorphosys" table is rooted in two key concepts: metamorphosis and metaphor. Marble, as a natural element, is separated from its natural ambient (meta-foreign material), and man-processed to become an artwork. This transformation process, interpreted by Flavio Albanese in the design of the texture and processed using Margraf's cutting-edge technologies, takes on a distinctive character and a unique shape.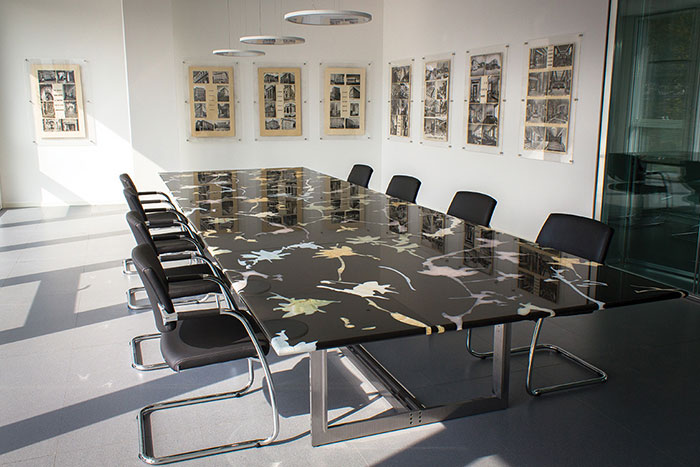 The lapidary material is "disaggregated", made lighter, chiselled, and shaped into an endless number of silhouettes and solutions, until it becomes an item of daily use. The work was named after the myth of Apollo and Daphne (Phoebus and Laurel) representing the perfect change of essence and nature: the marble tree with its lightweight, impalpable branches hosts a "human dimension" within itself. Nature is transformed and comes to life again in Margraf's marble and experience. Where there is nature, there is change. And where there is change, there is a natural spirit.

Flavio Albanese (Vicenza 1951), architect, designer, and contemporary art collector, went a totally different way to build up his expertise out of academic training. He has taught at many international institutes, including the IUAV in Venice, École Polytechinque Fédérale de Lausanne, Art Institute of Chicago, University of Yale, University of Technology in Delft, and University of Florida. He has been a member of the Domus Academy Scientific Committee, as well as the Mlart Honour Board, and he was the manager of the Officina Porto in Palermo. In the period from 2007 to 2010, he was the director of the magazine "Domus".

In 1987, he started the architectural design firm ASA Studio Albanese with main offices in Vicenza. The firm received a nomination for the 2003 Mies Van der Rohe Award thanks to its Neores project; in 2004 and 2006 he was a guest of the Venice Biennale of Architecture. At present, Flavio Albanese chairs the Fondazione Teatro Comunale Città di Vicenza (Foundation of the Municipal theatre in Vicenza) and is a member of the Managing Committee of the CISA (Centro Internazionale di Studi di Architettura A. Palladio).

Website:
http://www.margraf.it