Middle East Covering Show Brings Insights on Surface Design Trend
Dubai, United Arab Emirates, 11 May, 2015 – Versatility, innovation and sustainability dominate the inaugural exclusive trade exhibition for floors and wall covers, Middle East Covering. Happening from May 18-21, 2015 at the Dubai World Trade Centre, the show brings together products that reflect the current trends as well as experts who will share expertise and insights on the future of design at The Surface Design School. The Surface Design School will be held from May 18-20, 2015.

With a gross display space of 7,000 sqm and 182 exhibitors, Middle East Covering is a must-attend for interior designers, architects and consultants. With the foreseen spend on the fit out market to reach US$6.67 billion for residential, commercial, healthcare and education sectors, with mega projects including those in the UAE, Saudi Arabia and Qatar, the construction industry need not look any further for inspiration than Middle East Covering.

The show will focus on three main themes that are very topical current trends in floor and wall coverings: versatility of surface design, innovative surface materials and wood innovation and sustainability. The trends will also be discussed at the Surface Design School where in-depth seminars on the way forward for covering and solutions will take place.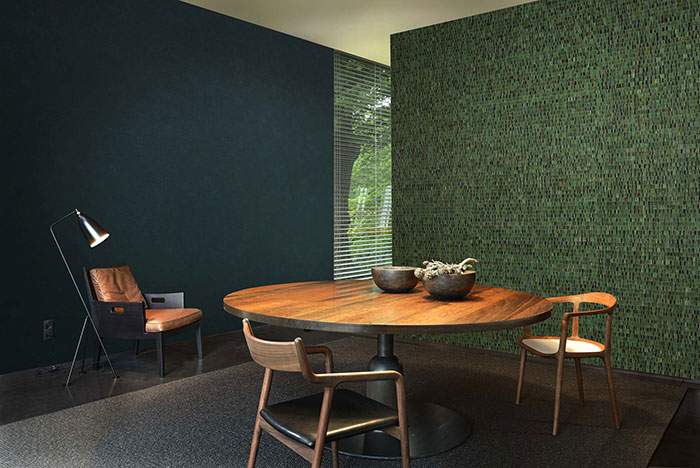 Versatility of surface design
Industry experts agree that surface coverings are more than just what is seen on face value. There is an increasing move to develop more creative elements for use in private and public spaces. With the materials that are available, there is a limitless selection of materials, patterns and colours available to inspire new horizons in interior design.

Versatility for example is demonstrated in the products showcased by the exchibitor Par-Ky. Its products are veneered parquet that combines the warmth and unique design qualities of real wood with the benefit of laminate. Every Par-Ky floorboard has a top layer of real wood and every bevel between two floorboards has an antibacterial protection.

Innovative surface material focusing on end-users
More attention is now focused on sustainable materials including interior finishing that will benefit the end-users. Materials that are sustainably sourced and manufactured are on top of designers' agendas. With the growing demand to answer the call of the Biophilic Design that integrates natural features and qualities to buildings or structures, more designers are inclined to use innovative and sustainable materials. This trend particularly applies to the needs of commercial office design, educational institutions, hospitality and healthcare.

In terms of users, one of the topics to be covered at the Surface Design School is space therapy. Participants will know the latest on therapeutic use of surface finishes in designing spaces.

Representing this trend are Suminoe Co. Ltd., Sharda Exports and Interface, sponsor of the Surface Design School. Suminoe Co. Ltd. from Japan will present its eco-friendly carpet tiles that are made from PET recycled bottle. Sharda Exports via The Rug Republic will showcase handmade carpets that are also woven in socially-responsible and environmentally-friendly manner. Among the products it will show are textured weaves, viscose, distressed, leather and natural un-dyed wool rugs.

Wood innovation and sustainability
Wood dominates as the most widely-used material and when handled properly, is one of the most resilient materials available. Solid wood is expected to continue to set trends in design with its universal quality. Of all the trends, wood-use has endured the longest. Its natural qualities remain endearing to designers and end-users.

The show has a number of respected wood flooring manufacturers showcasing their products. A wide range of innovative wood flooring products including solid wood, PVC composite decking, laminate and parquet products are on display.

Gerflor, one of the largest manufacturers of resilient commercial flooring in the world brings a carefully curated collection of its highest performing products to the show.

At the Surface Design School, participants will learn about sustainable coverings that will help lessen the environmental impact of material selection through improved product transparency.

"We are proud to bring the most comprehensive business-to-business exhibition solely for flooring and wall covering. Over 250 brands are on show from 16 different countries and the exhibition is a one-stop shop for architects, interior designers and consultants to source from. On top of the brands on display, we are delighted to present three days of seminars rich in information that are valuable to interior designers, architects and consultants when considering their future designs or even in purchasing the right materials," said Yan Wang, Event Manager for Middle East Covering.

The show will offer a trends tour participated in by Jotun, Kansai, Greenwood Kronotex, Parador/Kira Floorings, Brissol, Al Sorayai Group KSA, Wickham, Forbo, Gerflor, Suminoe Co. Ltd., Admontor, Sharda Export, Muraspec, HP, Armourcoat (Al Zubaidi), Berry Alloc, Margaritelli/Listone Giordano, Classen Germany, Tamadon, Wetar General Trading/Par-Ky, JRD International, NGC Wallpaper, Nahar Timberwise, among others.

Another highlight of the show is the Future Materials Experience presented by WT Project, an Italian architecture and design office active in the UAE. The feature will encourage visitors to engage in texture, colour and properties of new materials as well as illustration of the architecture and interior design case studies to produce fun and interactive living and architectural space.

Located in Sheikh Saeed Hall 1, Middle East Covering delivers a complete line of handmade and machine-made carpets, textile and resilient floor coverings, parquet and wooden flooring, laminates, sports flooring, application technologies, decorative paints, wall covering materials and all types of surface design products.

To register as a visitor for Middle East Covering go to www.middleeastcovering.com/register