Middle East First for Renault Trucks and Ocean Readymix & Precast with New Transit Mixer Deal
UAE-based concrete supplier, Ocean Readymix & Precast has become the first company in the Gulf to take delivery of Renault Trucks' new 8x4 Chassis model with a transit mixer capacity of 14 cubic metres. The new vehicles are being provided by Renault Trucks' UAE-based importer Al Masaood, one of the largest integrated industrial, commercial and service organisations in the Middle East.

In total, Ocean Readymix & Precast has received five units of Renault Trucks' K440 P8x4 model, which will be used by the company to service its projects and customers in its home city of Al Ain. With a Gross Vehicle Weight of 50 tons, the 8x4 Chassis version is the ideal model to meet the company's specific operational requirements. At the same time, the availability of a preventive maintenance service contract and reliable after-sales support provided added appeal.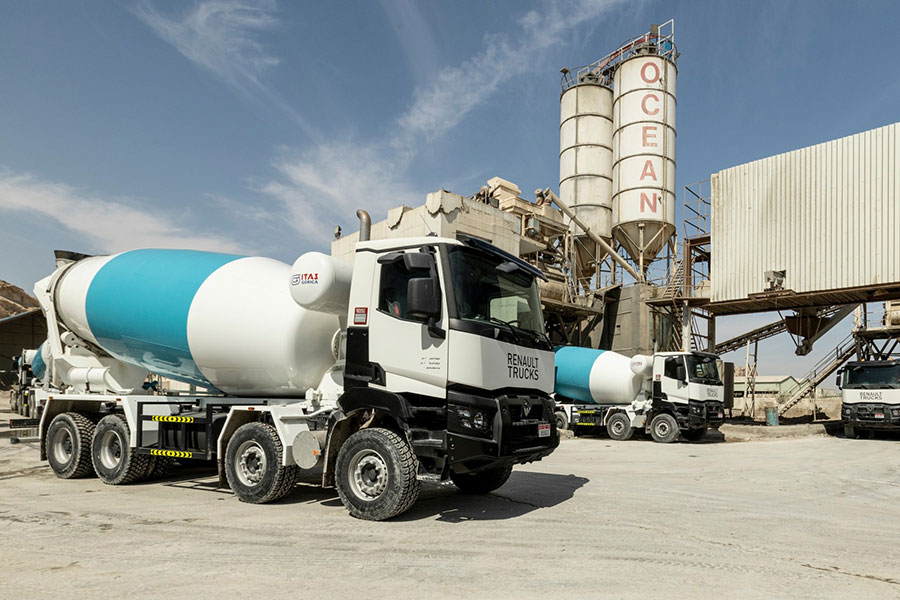 The new K range models are equipped with an Optidriver manual gearbox with automated gearshifting, as well as Renault Trucks' unique Optibrake exhaust braking system which, with a power rating of 300kW, promotes driver safety. Additional selling points include hill-start aid, wheel anti-slip regulation (ASR), anti-lock braking system (ABS), emergency braking assist (AFU) and an electronic parking brake (EPB).

Renault Trucks' K range of heavy construction trucks is designed to tackle the Middle East's toughest terrain, while at the same time minimising fuel consumption and maximising profitability. The K range of heavy construction trucks also features the latest cutting-edge equipment and technology; these robust, heavy-duty trucks are equipped with 11L and 13L engines and All Wheel Drive (AWD) capabilities.

Eng. Eyad Ibrahim Dukhan, Managing Director of Ocean Readymix & Precast, commented: "Working with Renault Trucks for the very first time to bring this unique deal to light has been an extremely positive experience. Not only have we been able to collaborate closely to introduce the largest concrete mixer yet to the region, but the finance scheme offered by the brand ensures maximum flexibility for us as a business. With its tried and tested engine, differential and gearbox, we have total confidence in our new trucks' capabilities."

Mohamed El Zeftawi, General Manager of Al Masaood Commercial Vehicles & Equipment, said: "We're very pleased to collaborate with Ocean Readymix & Precast and to provide them with our best-in-class holistic sales and aftersales services. Our sales and services are in line with Al Masaood's commitment to bringing enhanced customer experience and satisfaction. For Ocean Readymix & Precast, the K range model was a perfect fit for their needs due to its high capability and durability features that fully support the company's operations. This collaboration is another testament to the industry's trust in our capability to deliver high-performing products and complete solutions according to the globally recognised standards."

Commercial Director of Renault Trucks Middle East, Guillaume Zimmermann, said: "This order by Ocean Readymix & Precast demonstrates the confidence that exists in the marketplace for our line-up of high quality, K range transit mixer models. Complemented by the peace of mind and first-class customer service offered by our local partner, Al Masaood Commercial Vehicles & Equipment, the K model is the perfect working tool for customers around the UAE and wider Gulf region."

@RenaultTrucksCo #RenaultTrucksCo
Website:
http://www.renault-trucks.com