Middle East Skyscrapers Can Be Protected from Extreme Wind by New Façade System
The Middle East's increasing number of skyscrapers can be protected from extreme wind loads by a new façade system launched by Hunter Douglas.

The UAE and Qatar ranked third globally for each completing four skyscrapers more than 200 meters high in 2014, a record year with 97 skyscrapers completed, according to the Council on Tall Buildings and Urban Habitat. Moving forward, the UAE hosts nine of the world's 100 tallest buildings under construction.

Demonstrating the importance of wind safety, Dubai Municipality recently introduced new wind codes, while the International Building Codes mandate that buildings need to withstand wind loads of 770 N/m2.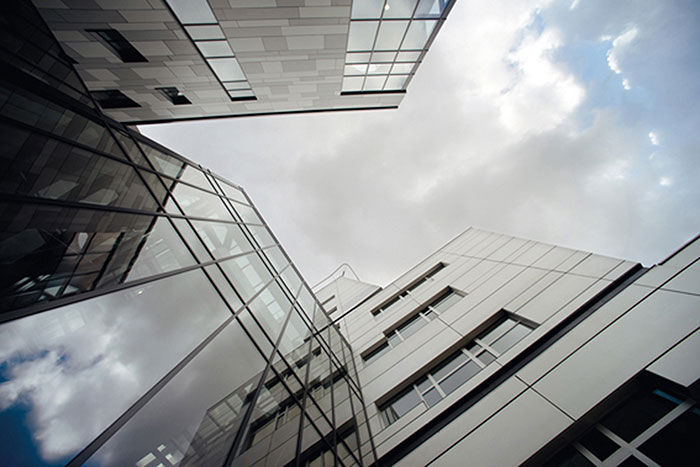 "As the Middle East, and especially the GCC, host taller and more complex and skyscrapers, architects need to design buildings that take into account the high winds speeds that put extreme stress on building facades," said Santosh Raj, Sales Manager, Architectural Projects – Middle East, at Hunter Douglas, an international façade manufacturer based in The Netherlands.

In anticipation, Hunter Douglas has launched the new QuadroClad 200 (QC200) panels that have tested positively for wind loads up to 3,000 N/m2 – more than the load produced by a Level 12 hurricane, more than three times the load in the International Building Codes, and twice as high as standard façade systems.

"With this innovative system, we wish to meet Middle East demand among installers for a flexible façade system. The QuadClad 200 panels can be mounted on different substructures, offering architects more design freedom and installers more installation options. The QuadroClad 200 panels also fit into the current trend towards visually clean facades, with 12.5 millimeter joints that appear to be closed, yet allow for ventilation and drainage of rain and condensation," added Santosh Raj.

QuadroClad 200 is easy to install, as the system is hung in place by means of an extended profile, rather than with separate brackets and clamps. The panels can also be installed on substructures from different manufacturers, making it easy to tailor the weight of the construction to the technical specifications of a project, without affecting the quality of the system.

QuadroClad 200 also offers an answer to current trends in architecture towards smooth, clean façades by means of optically closed joints of 12.5 millimetres. While the joints visually appear to be closed, inclined strips inserted in the joints between the panels allow air to move in and out freely. The flatness and stiffness of the panels and their integrated profiles contribute to the drainage of rainwater and condensation, keeping the façade cleaner and thus making it last longer.

The sandwich construction of the façade panels consists of two aluminium layers with a honeycomb structure in between. Maximum panel sizes of 1,500 by 6,000 millimetres make the Quadro Clad 200 system suitable for cladding larger surfaces with fewer panels, which contributes to a smooth, clean look.

QuadroClad 200 was presented at the recent ARCHITECT@WORK exhibition in the Netherlands.