Millennium Energy Industries to build the world's largest solar hot water system.
Millennium Energy Industries today announced that it was awarded the design and build contract of the largest solar district hot water project in the world, for the Princess Noura University for Women Project in Riyadh, Saudi Arabia. The University is a flagship project in the Kingdom and reaffirms the Kingdom's focus on education and energy efficiency.
The Ministry of Finance has assembled a world class consortium including the general contractor for the infrastructure of the project, a joint venture between Consolidated Contracting Company (CCC) and El-Seif Contracting, with Dar Al Handaseh as the Consultant on the project. Millennium Energy Industries was awarded the contract for this specialized system after a rigorous and competitive due diligence process, with international competition.
The solar district water heating system, which will be engineered, procured, and constructed by Millennium Energy Industries, will support the district heating network for the entire university campus. The university campus will include student accommodation and a world class hospital. The solar system, with over 17 MW of hot water capacity, is expected to provide significant savings on fuel consumptions while reducing carbon emissions. The system is scheduled to be commissioned before the launch of the university in 2011.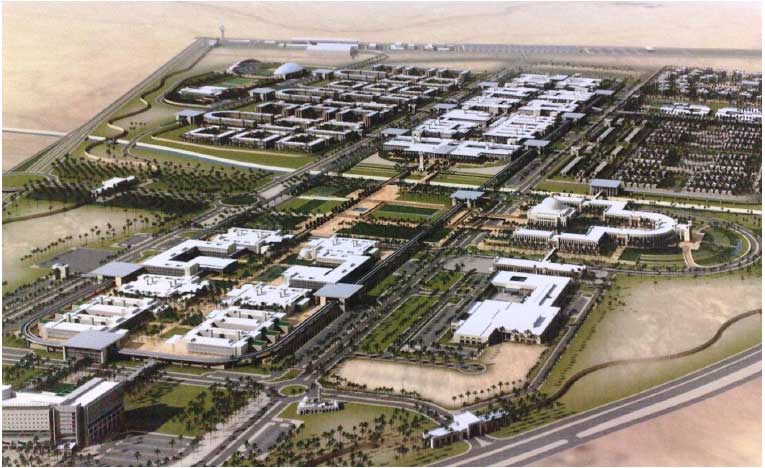 Artistic Rendering of the Princess Nora University for Woman Campus.
The use of practical and cost-effective solar solutions such as solar hot water, allow clients to save cost and creat a better environment with lower emissions, without significant capital cost/investment.
Ennis Rimawi, Chairman of Millennium Energy Industries and the Managing Partner of Catalyst Private Equity stated: "We are proud to be selected to design and build this flagship project after significant international competition." "This project is a complement to the Government and leadership of Saudi Arabia, it demonstrates a combination of cost efficiency, environmental consideration, and technology advancement."
Millennium Energy Industries was founded in 2002 with the objective of serving the solar energy needs of the region utilizing best in class proven technology for practical solar thermal heating, cooling, and power. Today, Millennium Energy Industries is an international company, based in the Arab MENA region, with over 200 reference solar projects in more than ten countries including clients such as Marriott, Movenpick, Safeway, Schlumberger, and various other industrial and commercial clients.
Millennium Energy Industries is majority owned by Catalyst Private Equity, an Arab MENA region cleantech and energy efficiency fund. MEI's core products and services include solar heating/cooling applications for residential, commercial and industrial clients. Millennium Energy Industries has offices in Abu Dhabi, Beirut, Amman, Ramallah, and Riyadh; and active relationships throughout the region.