MK Electric Extends Its Portfolio of USB Charging Solutions
Honeywell announced that MK Electric, a leading manufacturer of wiring devices, has added USB charging capabilities into its iconic product portfolio, aimed at enhancing guest experiences in the hospitality sector.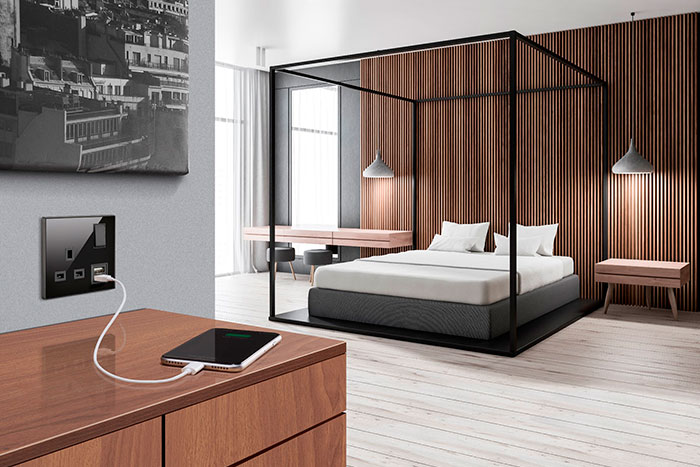 The new MK Electric's 1 Gang USB integrated sockets, equipped with dual USB charging ports, now meet both British and International standards,13 A and 16 A units, respectively, keeping in step with evolving technologies and customer needs.

MK Electric, which entered its centenary year in 2019, was one of the first UK manufacturers to introduce USB charging modules, with its 1 Gang switched socket now incorporated into four of its wiring device ranges, including Logic PlusTM, MK Dimensions, Elements and Aspect.

The hospitality sector is continuously evolving to provide a more digital experience, driven by the smartphone revolution, with the Gulf Cooperation Council (GCC) region having one of the highest smartphones penetration rates in the world.

The brand-new variants of MK Electric's 1 Gang switched socket have a charging capacity of 2A to prevent a risk of overload, and will cater to the demands of guests in the hospitality sector, as interior designers, architects, and, in turn, facility managers aim to install evolving technology in the early stages of their construction projects. The MK USB charging solutions are designed to optimize charging performance and enhance user experience.

The1 Gang switched socket is equipped with a smart dual port USB charger and supports optimal charging, making it safer to use. Furthermore, the device is equipped with a unique Dynamic Device Recognition feature specifically designed to detect charging configurations, and protect against short circuiting and overloading.

The solution will enable hotel guests to conveniently charge three portable electronic devices simultaneously from a standard outlet. Furthermore, the MK USB switched sockets have been specifically engineered to fit into a standard 25mm back box, making them simple to incorporate within retrofit projects.

"Over the last 100 years, MK Electric has designed and manufactured the foundations of the electrical industry, leading the market in the electrical wiring devices business. We aim to continue to design products based on an international standard of quality, making it easy to invest in the right kind of solutions for buildings," said Yashdeep Sule, marketing director, Honeywell, Electrical Products, Europe, Middle East & Africa.

"The 1 Gang USB switched socket will enhance the hospitality sector's offerings to cater to guests traveling to the region from all around the world. Our objective is to offer the most reliable products, and in turn, help create a smart, sustainable and connected future," he concluded.

MK's 13A sockets have a three-pin 'child resistant shutter system', which is designed to inhibit access to the electricity supply, unless all three pins of a British plug are in position. By choosing these types of sockets, building managers can guarantee high levels of safety and electrical protection. All electrical sockets manufactured to the British Standard must incorporate a shutter mechanism. MK's socket design offers the maximum safety benefits and all standard 13A MK sockets incorporate the three-pin operated shutter system.

By adopting the MK International 16A single switched socket with dual USB charging ports, guests no longer have to worry about travelling with a number of international adaptors to be able to use their electronic devices, laptops and personal grooming equipment. As a result, MK products are the perfect option that architects and interior designers can install in their projects to achieve high standards of convenience.

Moreover, the brand new sockets are designed in line with the latest interior trends. They suit every architectural and interior design theme or setting at all hospitality levels and are the perfect choice to guarantee safety, quality and reliability for customers and end users.

#USBCharging