Modern Apartment with A French Allure, By Oksana Salberg – Vachnadze
Created by Oksana Salberg – Vachnadze, a Russian interior designer and founder of the O2 Design Moscow studio, this modern apartment it's all about vivid colors and well-balanced contrasts. Inspired by the French minimalist style, the interior design project has a bright color palette and bold pattern choices, which highlight the modern lines of the lighting and furniture design in every room.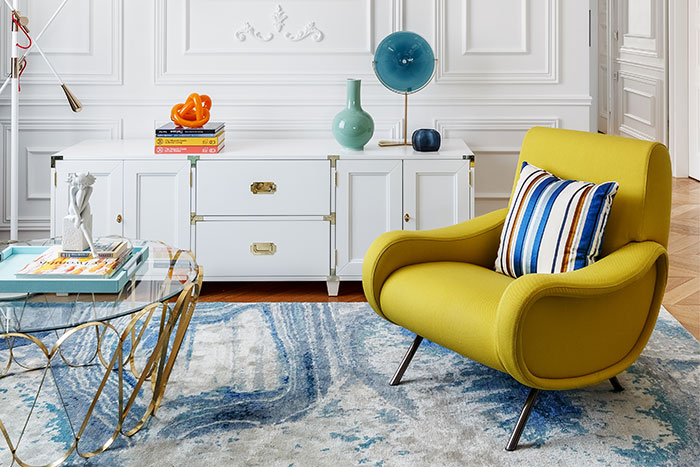 The layout of the apartment is very simple - it is a three-bedroom apartment with two bedrooms and a living room combined with a kitchen. The owner's wish was an interior with a modern and respectable style. Through a vibrant color scheme this impressive interior design project how perfectly the colors of the modern movement fit into the contemporary style.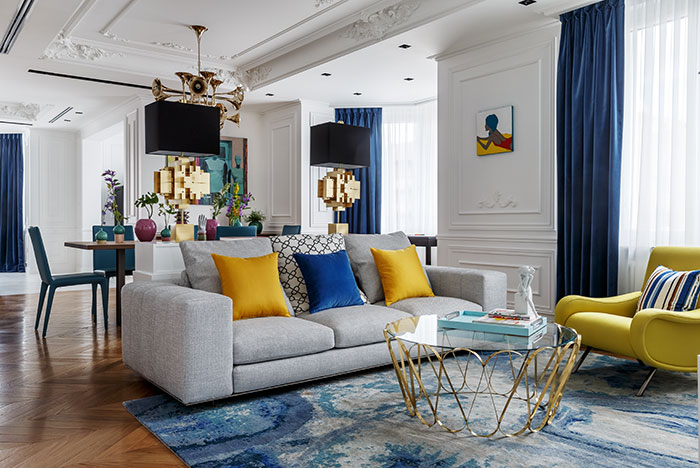 The living room is a greeting card for this project. The color palette is full of bright accents yellow and blue, gold and green that are elevated given the white background of the wall and ceiling. In the center of this area there's a striking round coffee table with an openwork metal-based, with tempered smoked glass resting on the polished stainless-steel base, creation of Boca do Lobo. The space also contains a vibrant yellow armchair and a rug with a print imitating stone.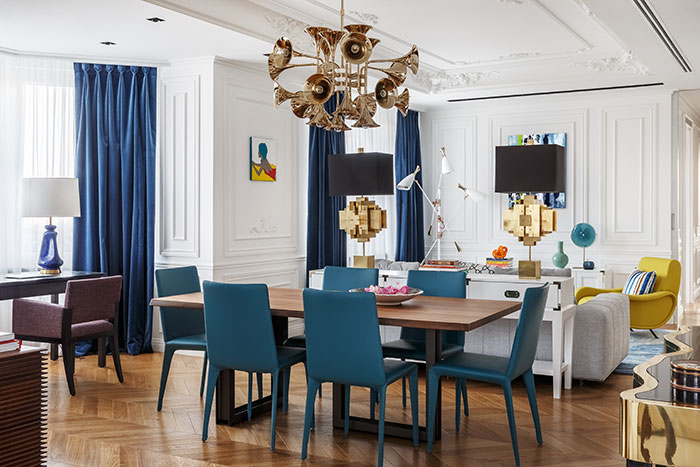 Next to the living room is the equally eclectic dining room. A perfect match of colorful modern furniture from the most emblematic brands, such as Bonaldo chairs and the table from Cattelan Italia. The sophisticated and aristocratic style of this space is due to the contemporary artwork, the velvet curtains, and the unique chandelier, from Delightful Lighting Brand, that hangs over the dining table.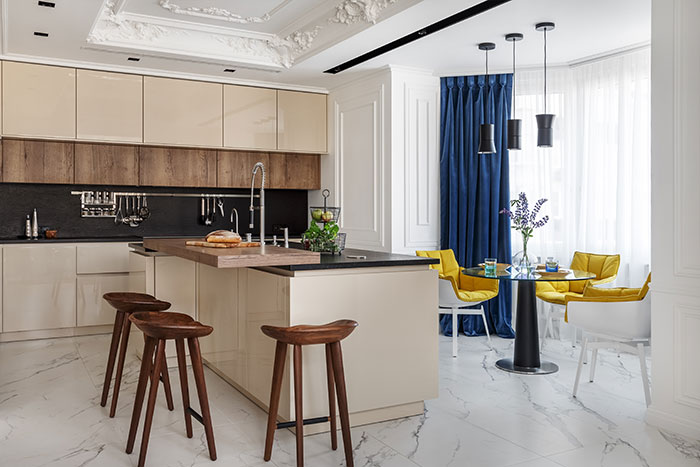 The kitchen is more color-neutral with straight lines, light and dark, neutral tones and wood accents. It is something like the calm between the storm of colors of the other areas. The vivacious yellow chairs and blue curtains are the bright accent of this kitchen, which reflects how ecological motives and luxurious touches can fit perfectly together.

This bright and joyful interior design project shows how a surprising color scheme, stylish furniture pieces, and impressive contemporary artwork can come together and give life to a wonderful house.
@bocadolobo #bocadolobo