Modern Building with GEZE Smart Façades
GEZE affirmed its leadership position in the building automation by introducing GEZE Cockpit, the first building automation system for smart door, window and safety technology at ZAK World of Facades Cairo, Egypt on 16th of April 2019.

Zak World of Façades is an International conference series on the subject of façade design & engineering. In its 59th global edition and the 1st edition in Egypt, the conference discussed the latest innovations and challenges in the construction industry pertaining to the building envelope and showcased the latest technological solutions. Among the leading sponsors of the Zak World of Façades Cairo, Egypt are SchÜco, GEZE, and Hilti to name a few.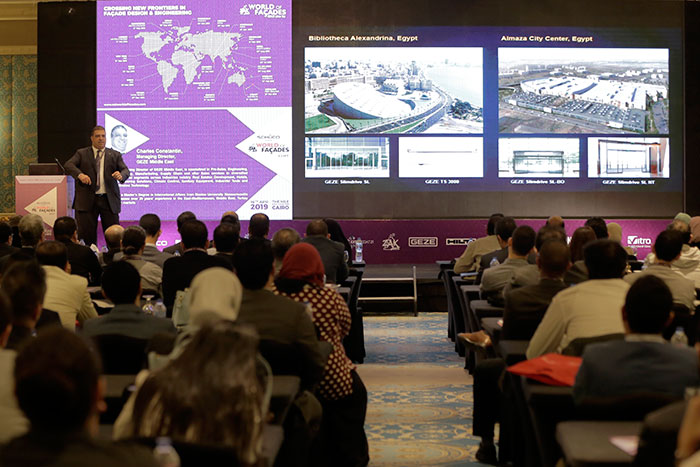 Over 300 delegates including architects, designers, consultants, façade builders, contractors, authorities, façade engineering experts and global building material brands' representatives participated at this strategic event in Cairo, Egypt 2019.

″Egypt & North Africa are expected to register substantial developments at the global level which were recorded in the present year 2019 and a similar powerful speed is projected going forward in the next 5 years taking into account the magnitude of regional governments' investments in infrastructure. We foresee Egypt in a leading role within the construction arena notably till 2025. Furthermore, we anticipate Egypt to occupy the largest economic growth in the Arab world alongside the Kingdom of Saudi Arabia, particularly in the construction mass." Commented Charles Constantin, Managing Director of GEZE Middle East.

GEZE presented "SMART FAÇADES MADE BY GEZE" at ZAK World of Facades, Egypt 2019, focusing on GEZE history, GEZE leadership in building automation, GEZE smart systems and GEZE project references in Egypt.

"It is a true pride to continuously witnessing the contributory value that Zak World of Facades' Conference brings to the Building / Construction Industry whilst addressing Planning, Design, Architecture, Engineering, Project Management, Safety, Application, Quality and Technology. The latest event on April 16th, 2019 in Egypt, Cairo; has reaffirmed these contribution factors and the platform offered impactful know-ledge, know-who and above all know-how. Congratulations to the entire organization of Zak World Facades for the outstanding efforts and distinctive professionalism that are coupled with a premier passion towards improvement and development of the Construction Environment." added Charles Constantin.

The GEZE Cockpit building automation system: smart, secure and efficient control of building technology

With this innovative control unit, automated system components from the fields of door, window and safety technology from GEZE and other manufacturers can be networked, monitored centrally and controlled – even via smartphone or tablet. Via the IO 420 interface module, GEZE products can be integrated into network solutions with BACnet, and be networked with each other via BACnet MS/TP.

A unique complete solution is a multifunctional, centrally controlled swing door system with an automated and a manual door leaf. With the 'robust', award-winning Powerturn drive and tried-and-trusted GEZE door closer technology, the door system combines accessible door control, emergency exit protection, fire protection, increased burglar resistance, complete protection when passing the door and remote monitoring. The universal drive design across both door leaves is a visual highlight.

"GEZE smart building solutions aim to provide automated and networked building infrastructure solutions to make modern buildings more comfortable, secure and ultimately reduce energy consumption. With a lot of research going into developing this, we are confident that GEZE's smart solutions for doors and window automation and a future of facades will be well received in the region." concluded Charles Constantin.

GEZE is one of the world's leading developers and manufacturers of construction systems for door, window and safety technology. GEZE offers a comprehensive range of products including automatic door systems and door technology, glass systems, smoke and heat extraction systems, safety technology as well as window and ventilation technology.
@GEZE_GmbH #GEZE_GmbH @zakwof #zakwof