More regulation needed to reduce food and construction waste
Emirates Green Building Council (EmiratesGBC), an independent forum aimed at conserving the environment by strengthening and promoting green building practices, and the Middle East Facility Management Association (MEFMA) hosted an event to discuss the exponential implications of waste, under the theme 'From Supper to Site: Rethinking Waste'.

Moderated by Habiba Al Marashi, EmiratesGBC co-founder and treasurer, and founder and chairperson of Emirates Environmental Group, industry professionals from various sectors gathered for two different panels, 'Rethinking Supper: Food Waste' and 'Rethinking Site: Construction Waste', where they had the opportunity to share their respective experiences with regards to food and construction waste, how they are managed and whether there is room for improvement within the industry.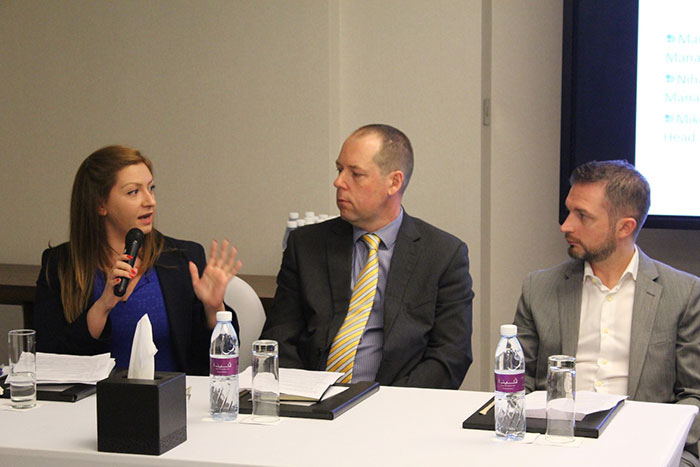 Both panel discussions encouraged industry professionals to participate and learn from others about the current situation with waste, propose various possible solutions that could be implemented, and acknowledge the limitations, in terms of both food and construction waste.

Participants in the food waste panel included Mohammed Karam, Business Development Manager, Middle East & North Africa, InSinkerator; Sandrine Le Biavant, Director of Consultancy - Sustainability, Energy Management & FM Consulting, Farnek; and Victoria Bond, Head of Integrated Waste Management, WSP I PARSONS BRINCKERHOFF.

Introducing the panel, Ms. Bond stated: "Despite the obvious food wastage, there is a lack of data indicating the extent to which food is wasted in the UAE. On a more general note, the UNFAO has predicted that globally, 33 per cent of food generated is lost or wasted."

Mr. Karam added that "it is estimated that the annual food waste in the UAE is approximately 3.2 million tonnes. To better understand the weight of this escalating concern, some researches have acknowledged that between 30-40 per cent of our domestic waste is food and during the whole month of Ramadan it increases to 55 per cent. Not only does, the wastage of food amplify the number of existing piles of waste in landfills, but it also generates high cost to segregate as well as to eliminate such a mass of waste."

During the session, industry experts agreed that in order to eliminate the issue of food wastage, the roots should be tracked down to the stakeholders; and agreed that both the government and industry can play significant roles in finding solutions to mitigate food loss, through various means, including the enforcement of additional legislations and regulations and award recognitions to encourage best practice on waste management.

In terms of economic development, it was acknowledged that there is a certain struggle in implementing additional regulations. This is demonstrated in the limited number of treatment structures available for clients to manage waste.

It was also highlighted that architects and designers play a vital role in reducing food waste, pointing out that if practices such as urban farming and/or material planning are implemented at the early stages of the design, food wastage can be reduced dramatically in the long run. One major issue is the amount of energy and water required to eliminate food waste. "The wastage of a single apple is 70 litres of water, which is the amount of water required to grow it," Mr. Karam stated.

However, experts pointed out that food wastage is also a cultural issue. "Before involving the government and architects, it is essential to begin at the level of a single individual," Mr. Karam said. "Education and awareness are crucial to tackle the issue," he added.

During the second panel, 'Rethinking Site: Construction Waste', panellists including Mark Heesom, Managing Director Waste Management, Bee'ah; Mike Pidgeon, Head of Sustainability, Alpin Group; and Nihal Karagoz, Head of Environment and Sustainability, Al Fara'a Group; were asked about the growing economy in the UAE and whether there is enough space to dispose of construction waste, taking into consideration the value of the land.

According to experts at the event, concrete constitutes for most of the construction waste. "In fact, a minimum of 15-20 per cent of the total waste generated in the lifetime of a construction project can be diverted from landfill only by recycling concrete waste," said Ms. Karagoz.

In order to guarantee the effectiveness of the amount of waste to be diverted, experts suggested several measures to be implemented. 'Sideways training' programmes were proposed to promote waste management, and highlighted the importance of understanding that limiting the generation of waste is key to mitigating overall waste in the first place.

Professionals identified a lack of knowledge-sharing among the industry and the need for a platform where these conversations can take place. "At EmiratesGBC, we strive to provide a platform for discussion and have recently started a contractors' forum to tackle the main challenges faced by the industry. The group will be comprised of key players within the construction sector and will meet periodically to explore potential solutions to major industry issues. Waste management seems to be of great concern amongst stakeholders, so it will certainly play an important part on our discussions within the forum," Ms. Al Marashi concluded.