Multi-awarded winning Aquablade: A New Era in Flush Techniology
Following several years in development, Ideal Standard brought to life the AquaBlade® Technology - the most significant development in the product category, since the invention of the flush toilet in the 19th century. This patented technology has set new standards in design, hygiene and performance. As we knew it would!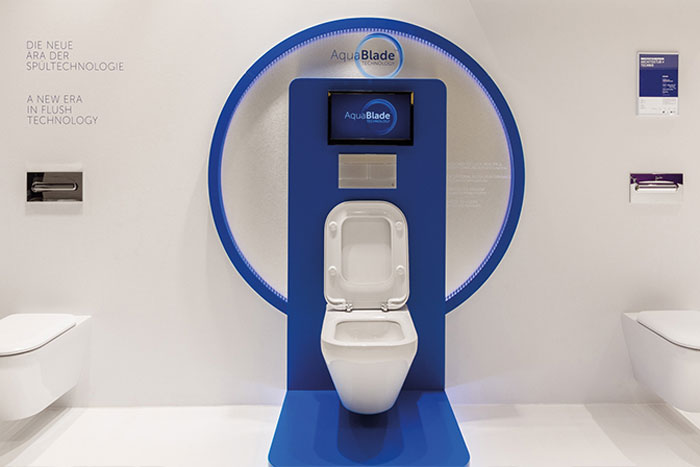 AquaBlade® was launched by Ideal Standard in 2015, and its exclusive and patented technology offers the best superior flushing, even at low water volumes.

This Technology sets new standards in both toilet design and optimum flush performance.

Since being introduced to the market, the innovative AquaBlade® flush system has won multiple awards in recognition of its functional design and advanced technology including The Prestigious Housebuilder Awards, Gold Award for Innovation in Sustainability, Red Dot Design Award, The International AIT Award, IF Design Award, The Build It Awards, and German Design Award.

THE STORY BEHIND THE TECHNOLOGY
"Our objective was to create a sleek, modern design that outperforms existing toilets on the market. We designed the bowl without the traditional overhanging rim to give a contemporary look and feel. This also reduces unhygienic areas which can harbour bacteria. In terms of the flush performance, we engineered the design to allow the water to wash from the very top of the bowl, so that cleaning is optimized. The internal channel reduces turbulence to create a highly efficient, quieter flush with less splashing
CLEANER
AquaBlade® technology outperforms all existing toilets in terms of hygiene. Traditional toilets leave a significant area of the bowl unwashed, particularly at the back of the bowl. A fully glazed channel is positioned close to the top of the bowl ensuring 95% of the surface area beneath is flushed and kept spotlessly clean. With AquaBlade® technology, the optimized water pressure and smooth curves of the bowl flush bacteria clean away with no unhygienic splashing.
SMARTER
The elegant aesthetic design of the AquaBlade® is also exceptionally clean. No unsightly, overhanging rim means a smooth, almost flat surface, broken only by a neat, barely visible line. Aquablade® technology is expected to function perfectly when it is combined with elegant and unobtrusive design, coupled with tangible functional benefits; then you truly have a product that can be described as a smarter design. European market research finds that eight out of ten consumers prefer toilets with AquaBlade® design technology over standard models.
QUIETER
In comparison with many traditional flushes, AquaBlade® is also much quieter. Our scientific comparisons have been made against exact like-for-like toilet bowls, one with the revolutionary AquaBlade® flush and one with a traditional flush. The results show a 25% reduction in noise. The reason is because of the cascading water that runs down evenly at a sufficient pressure to wash everything away - quietly and without splashing. AquaBlade® technology gives a superior flush performance every time.