MVW01 medium voltage variable speed drives deliver more than twice the previous rated power
WEG, a global leading supplier of drive technology, has more than doubled the maximum power of its air-cooled MVW01 medium voltage variable speed drives - from 6.5 MW to 16 MW for voltages from 2.3 kV to 4.16 kV - to meet the needs of medium voltage three-phase induction and synchronous motors across a broader power range.

The overall product line now covers the voltage range from 2.3 kV to 6.9 kV and the rated power range from 400 kW to 16 MW; a water-cooled version is also available, offering up to 40% higher rated power than the air-cooled one. With efficiency levels of more than 99%, the MVW01 achieves the best efficiency of any medium voltage drive currently available on the market, meaning customers can increase energy efficiencies in their application, reducing their environmental footprint and making associated cost savings.

WEG's MVW01 variable speed drive combines robustness with ease of use and handling, reliability and safety, so end users can improve their operational processes. The drive is suitable for a variety of applications including pumps, fans, mills and agitators in the oil and gas, mining, minerals and metals, chemical, paper, plastics and rubber, and water and wastewater sectors.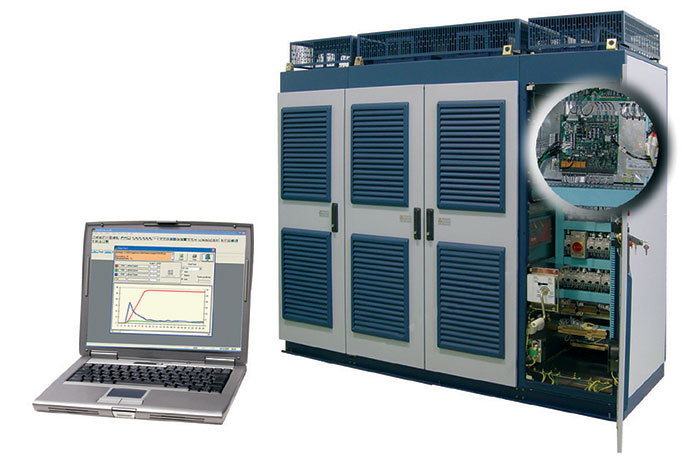 The MVW01 delivers high performance. It features voltage source inverter (VSI) topology with a three-phase rectifier, DC link and multi-level output converter using Neutral Point Clamped (NPC) technology with 3/5 voltage level for output voltages from 2.3 kV to 4.16 kV or 5/9 voltage level for output voltages from 6.0 kV to 6.9 kV. Specifically designed for the harsh conditions of traction applications, the frequency inverter is equipped with the latest generation of insulated-gate bipolar transistors (IGBTs) for voltages up to 6.5 kV – and a DC link with a 12-pulse bridge rectifier, with 18-, 24- or 36-pulse rectifiers available as an option.

The drive has exceptionally good dynamic characteristics with the multi-pulse diode configuration of the input rectifier offering a power factor over 97%, which translates into lower demand for incoming current and thus less costs. Driven by the Optimised Pulse Pattern (OPP) clocking method developed by WEG, the output stage topology of the inverter (multi-level NPC) enables optimal switching behaviour that reduces motor current harmonics to an absolute minimum.

Additionally, WEG's medium voltage variable speed drives are based on the same user interface philosophy as WEG's low-voltage variable speed drives, offering ease of use and simple device programming. Maintenance is simplified by plug-in inverter power modules (one per phase), while the NPC inverter topology with multi-level technology offers a relatively low number of power components, which contributes to increasing efficiency and reliability.

All critical components, including the high-voltage IGBTs and dry-type plastic power film capacitors, are designed for long life. A fibre optic interface is used for the inverter drive signals and signal feedback to the CPU to reliably isolate the medium-voltage components from the control circuit and the control interfaces. In addition, the variable speed drives are housed in IP41-rated cabinets and support all commonly used network protocols, including DeviceNet, Modbus, Profibus DP and Ethernet. Flow-through ventilation with top-mounted fans provides extremely effective heat dissipation and a low noise level (less than 75 dB A).

"Thanks to its advanced technology, the MVW01 is easy to use and provides excellent reliability and safety combined with exceptional energy efficiency," says Fábio Gonçalez, European Automation Manager at WEG. "WEG has a long history as a provider of motor speed control solutions and manufactures all essential components such as switchgear, oil- and air-cooled transformers, frequency inverters and electric motors, and at our European Automation Centre in Unna, we can also make custom solutions and application-specific software modifications."