New Gamma room temperature controllers from Siemens.
The Siemens Building Technologies Division has added new room temperature controllers to its Gamma building control product line. These controllers offer user-friendly visualization and improved operating safety as well as energy-saving features designed to help make buildings more sustainable.
The Siemens Building Technologies Division is introducing the new Gamma room temperature controllers UP237K and UP254K in different design variations to match the Delta frames. They support heating and cooling applications. Both room temperature controllers can be configured as two-point or continuous controllers and support two-level heating and/or cooling. The actuating signals for the different actuators are also configurable.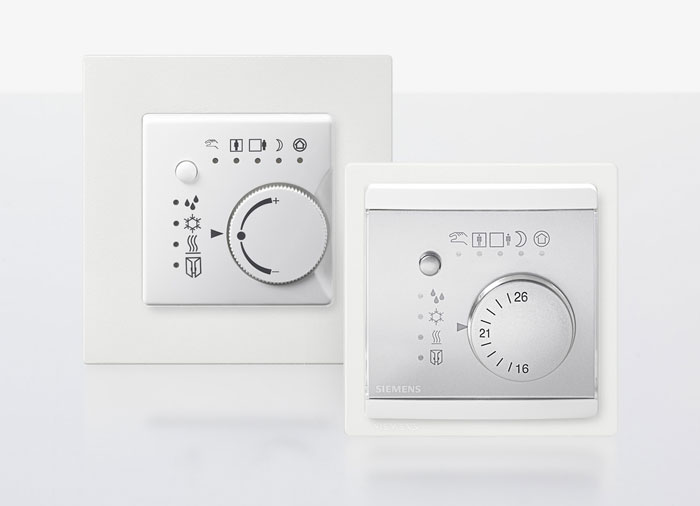 One outstanding feature of these new room temperature controllers are the logically arranged LED displays which indicate operating and error states. Room users are able to see not only that a room is not being operated within the optimal temperature range, but also the reason why (for example, because a window is open, causing the room temperature to fall outside the setpoint range).
This allows users to respond without delay in order to restore the optimal room state. For this feature to work, window contacts need to be connected to the temperature controller so they can be visualized. If the Gamma room temperature controller detects open windows, the LED display is activated and the heating/cooling system is switched to protection mode, saving heating and cooling costs and reducing the environmental burden.
The new Gamma room temperature controllers have replaceable rotary buttons for setting the temperature setpoint value. This allows users to set the absolute temperature value (in degrees Celsius) or the relative setpoint shift (in +/-), thus increasing operating comfort for room users.
Both room thermostats support the open, standardized KNX communication protocol for residential and commercial building management technology, allowing for highly flexible integration into intelligent building automation systems.
Gamma temperature controllers are part of Siemens' Environmental Portfolio. In fiscal 2011, revenue from the Portfolio totaled about €30 billion, making Siemens one of the world's largest suppliers of ecofriendly technologies. In the same period, our products and solutions enabled customers to reduce their carbon dioxide (CO2) emissions by nearly 320 million tons, an amount equal to the total annual CO2 emissions of Berlin, Delhi, Hong Kong, Istanbul, London, New York, Singapore and Tokyo.