New Italian Construction Force Sets Up in UAE
Two of Italy's leading construction industry names have formed a joint venture, which is headquartered in the UAE, to bring 360 degree, advanced architectural, turnkey, manufacturing, engineering as well as project management and building solutions to the region.

Cimolai Rimond Middle East may be the newest kid on the block but in reality it leverages a strong, decades-old Italian heritage with proven expertise across the complete architectural, engineering and construction eco-system.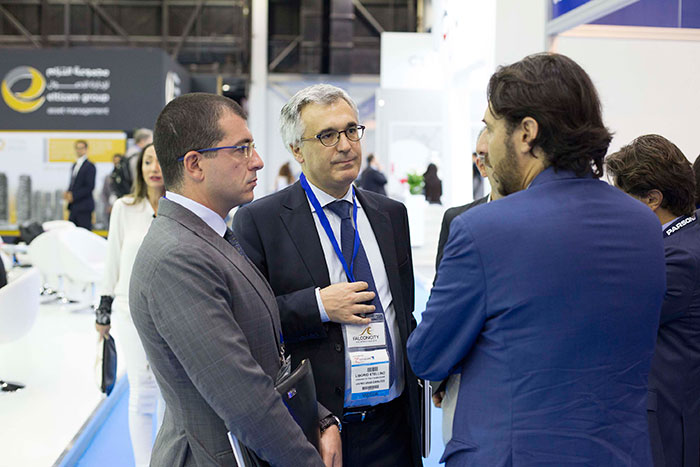 Italian Ambassador to the UAE, Liborio Stellino, visiting the Cimolai Rimond stand at Cityscape.
Together the joint venture partners, operating from its regional base in Abu Dhabi's Masdar City, offer complete turnkey construction based on the latest advances in integrated project delivery solutions using Building Information Modelling (BIM) technology.

"Cimolai Rimond Middle East's rich vein of expertise will help clients capture more value from every phase of their work by mitigating risks, providing consistency and getting things built and managed. It will transform fragmented, traditional project management processes which have been yielding outcomes much below expectations, to a collaborative and efficiency optimised IPD process with market-leading BIM technology tools delivering high-outcome results and putting tight budgetary control back in the driving seat," explained Robert Di Franco, Country Manager / Projects Director, Cimolai Rimond Middle East.

Both partners have been associated with some of the most challenging and stand-out projects of the 21st century across a wide breadth of market segments including hospitality, healthcare, education, exhibition centres and pavilions, transportation and marine infrastructure.

Cimolai and Rimond both worked on the delivery of Rome's innovative 'The Cloud' auditorium for the city's new convention centre, which is due to open next month. Both are also well attuned to the Middle East. "We know and understand the vision and the desire to craft national pride," said Di Franco.

Cimolai, a mega structures steel manufacturer, supplier, engineering and construction giant, was involved in the delivery of Doha's landmark Aspire Tower and the giant maintenance hangar at Hamad International Airport. Meanwhile, Rimond, which previously operated an office independently in the UAE, was the construction contractor for the showpiece, Foster+Partners designed, UAE Pavilion for Expo Milano 2015.

Rimond applied an integrated design process with a custom BIM strategy right from tender stage for the pavilion, which allowed the work to be completed without delays, extra cost or rework. The company has since handled the complete dismantling of the pavilion and the logistics behind its relocation to Masdar City where it will become the clean energy pioneer's visitor centre.

The birth of Cimolai Rimond Middle East, headquartered in the UAE capital, Abu Dhabi, brings to the region the hi-tech-networked, end-to-end techniques which are now transforming the industry.

"Our company is built on a solid heritage of passion-for-perfection arising out of family run and entrepreneurial-driven businesses, Italian steel products, craftsmanship, design and innovation, which together combine almost three-quarters of a century of expertise and an unparalleled commitment to research and development that is changing the way we build. It's a meeting of minds and approaches, with both partners inspired by seemingly impossible challenges, intricate projects and complex experiences - be it iconic bridges, statement hotels, state-of-the-art hospitals, postcard convention centres and pavilions or ground-breaking educational institutions. Our alliance with some of the world's best R&D minds keeps us at the forefront of industry evolution," explained Di Franco.

"We tailor solutions with bespoke BIM systems and are truly innovating by using advanced manufacturing tools like 3D printing with our allied partner, Italy's World's Advanced Saving Project (WASP), to propel the construction industry further towards a new generation of complex structures, extreme customisation and sustainability. This is the future. The sustainability benefits of 3D printing are game-changing because it reduces transportation requirements and waste and enables extensive use of bio-based materials."

Cimolai Rimond Middle East, which retains some of Europe's most acknowledged, next generation building pioneers to drive its R&D and knowledge-sharing programmes, is looking to also assist with educating regional professionals on the latest building technique breakthroughs.

"The Middle East now has a partner attuned to the challenges of modern construction and with an abiding desire to build a share an incomparable knowledge-bank," added Di Franco. "As pioneering industry educators, we look forward to transferring our knowledge to the region with initiatives such as an online academy, to develop fresh, local talent."