New Philippe Starck Interior Design Concept with Bathroom Fixtures by AXOR
Under the impetus of La Réserve and the vision of excellence upheld by its owner Michel Reybier, the Eden au Lac property is reinventing itself as La Réserve Eden au Lac Zurich, a new 5-star establishment in Zurich. The hotel has been completely redesigned to provide an elegant and timeless experience in the heart of an imaginary yacht club dreamed up by Philippe Starck.

The French creator conceived the renovation to be minimal yet not minimalist, based on a quest to reveal the structural soul and raw poetry of the place, releasing the light and maximising the architectural volumes. The hotel is filled with fertile surprises and mental games, sophisticated and carefully curated objects and materials that give a unique poetry and charm to the place. "La Réserve Eden au Lac Zurich is like rock-and-roll dancing with the Queen of England. Everything is classic, yet nothing is classic anymore. It is a timeless blend of creativity, classicism and intelligence — like Switzerland itself," Philippe Starck explains.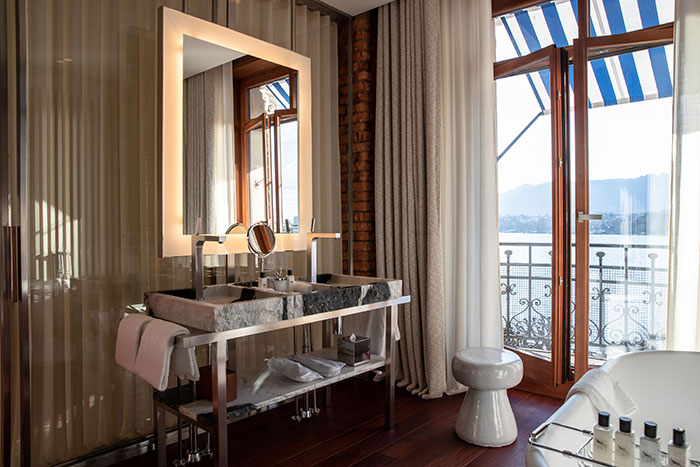 For the hotel's bathrooms, La Réserve Eden au Lac and Philippe Starck worked with AXOR collections, including AXOR Starck for the wash basin, bathtub and shower, and AXOR Starck Organic for accessories. Two AXOR Starck collections inspired by nature that focus on the beauty and magic of water.

Elegantly combined with the AXOR Citterio collection, a subtle mix of right angles, flat surfaces and refined curves, the results are timeless yet creative, rational yet sensuous bathrooms. Many of the products are finished in Brushed Chrome, one of fifteen exclusive AXOR Finish Plus surfaces.

"My work with AXOR has always been only about water, its magic and beauty. At La Réserve Eden au Lac Zurich, the lake is an omnipresent attraction that I wanted to keep visible everywhere and at all times. It is only natural that these two projects come together, as there is nothing more connecting, more human than water. Water is life," said Philippe Starck.

@Hansgrohe_PR #Hansgrohe #HansgroheAxor #Axor #PhilippeStarck
Website:
https://www.lareserve-zurich.com/