New technologies strengthen the airport security landscape
New technologies are changing the airport security landscape across the world.

The constantly changing face of illegal migration trends, terrorism threats and transnational organised crime methodologies have made airports look at new methods and solutions to tackle these extraordinary security challenges and risks.

Security continues to play an increasingly important role as airports remain keen to accelerate their outputs, minimise disruption and ensure better customer experience. Airports in the Middle East, especially the UAE, have been at the forefront when it comes to adopting the latest security technologies.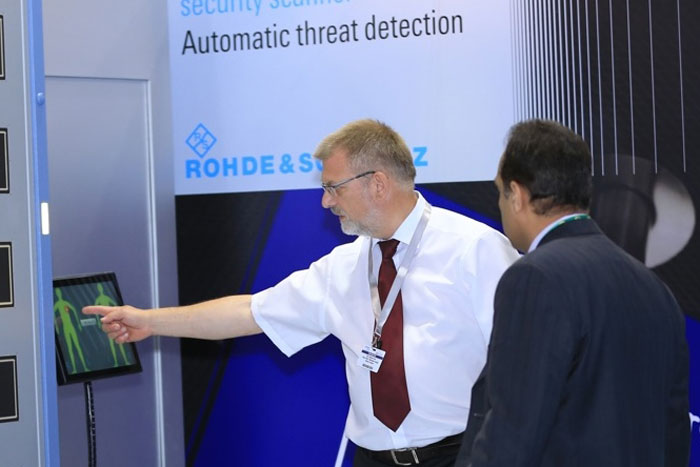 More than US$100 billion worth of airport-related projects are planned and underway across the Middle East and North Africa (MENA) region as governments look to update and expand their infrastructure.

The global airport security market is projected to grow seven percent a year CAGR until 2024, reaching a value of US$16 billion, according to a report by Global Market Insights.

The International Air Transport Association (IATA) expects 7.8 billion passengers to travel in 2036, a time when the Middle East air passengers would reach the 517 million mark.

The UAE is projected to handle approximately 1.85 million flights in 2030 per annum. The Arabian Gulf airports are to handle 450 million passengers by 2020.

Given such growth on the horizon, the demand for latest innovations in airport security is burgeoning. The scenario is likely to remain unchanged for years if not decades to come.

"Technology plays a key role in enhancing our ability to grow, innovate and sustainably improve the experience of airport travellers," said Major General Pilot Ahmed Bin Thani, Deputy Commander-in-Chief for Ports Affairs, Dubai Police. New technologies, smart solutions and new trends have already began to reshape the airport experience, he added.

The senior Dubai Police official remarked: "A raft of new technologies like biometrics, robotics, artificial intelligence, Internet of Things (IoT) are redefining the airport experience and security. Biometric verification of passports and contactless entryway checkpoints are two examples that have enhanced the security.

"Airports, visited by millions of people, are particularly susceptible to security challenges and risks. Airport security has become an unavoidable reality of the aviation. Therefore, technology is a crucial factor in enhancing the safety of these essential facilities and facilitating the safe travel of millions of travellers whose numbers are expected to double to more than seven billion by 2036 according to the IATA expectations," he said.

The most future proof airport security products and services from around the world will be on display at an exhibition being organised as part of Airport Show in Dubai in May.

One of four co-located events at the 18th edition of the world's largest annual airport exhibition, it is being held under the patronage of His Highness Sheikh Ahmed bin Saeed Al Maktoum, President of Dubai Civil Aviation Authority (DCAA), Chairman of Dubai Airports and Chairman and Chief Executive of Emirates Airline and Group.

The three-day business to business (B2B) event will take place at the Dubai International Convention and Exhibition Centre (DICEC), a cutting-edge facility offering more than one million square feet of multipurpose halls. The Airport Show, organised by Reed Exhibitions, occupies three halls with a gross space of over 15,000 square metres.

With 7,500 attendees from over 90 countries, the Airport Show is as an ideal platform for the Middle East, Africa and South Asia's aviation authorities to get first-hand knowledge on emerging aviation trends and technologies.

Airport Security Middle East will highlight the latest technology from biometrics, scanning, face recognition, border control, access control, CCTV and other security solutions from across the world.

The event will also include a dedicated conference with international and regional experts sharing the latest studies in a series of high-level presentations and panel discussions. Over 150 officials from airport security, immigration, customs and homeland security will be attending the conference, including senior security officials from Dubai, Abu Dhabi, Sharjah, Oman, Bahrain and Saudi Arabia.

Meanwhile, Business Connect, a digital matchmaking service for the event will host top officials from regional Airport Security departments and will facilitate over 500 pre-scheduled meetings for Airport Security exhibitors and visitors at the event.

Leading global security solution providers exhibiting at the event include Nuctech Middle East, Sinocloud Wisdom (Beijing) Technology Company, Smiths Detection, Technical Square Group, Accura Scan, Al Fajer Trading, CEIA S.p.A., CEM Systems, Data Capture Systems, CQRTS A/S, DSA Detection, L-3 Security and Detection Systems, Rockwell Collins, Honeywell and Sicurit, amongst many others.

Rockwell Collins said the show provides them with the opportunity to connect with its customer base of more than 325 airlines that use ARINC IT products and services at over 170 major international airports. They have found that security requirements for critical infrastructure such as airports all around the world are becoming more complex and sophisticated to meet growing threats.

Daniyal Qureshi, Group Exhibitions Director, Reed Exhibitions Middle East commented: "The aviation industry's growth brings its own set of threats which airports need to effectively handle. Smart Technology plays a major role in helping airports stay ahead of the constantly evolving threats. We are entering a challenging period as machines become better at threat detection and so it is important to understand where human interaction is still needed and how we maintain their vigilance and engagement in systems that require less intervention."

For more information visit: www.theairportshow.com/airport-security-middle-east-exhibition