New technology for construction and mining reduces equipment breakdowns and saves money
Since 1999, Waagene Purifiner Technology has manufactured and sold purifiers worldwide.

The company develop and manufacture purifiers, mainly for hydraulic oil. More than 2,500 units are sold to the shipping industry worldwide and the system has received excellent reputation for the way it keeps hydraulic oil clean, and machinery running smoothly.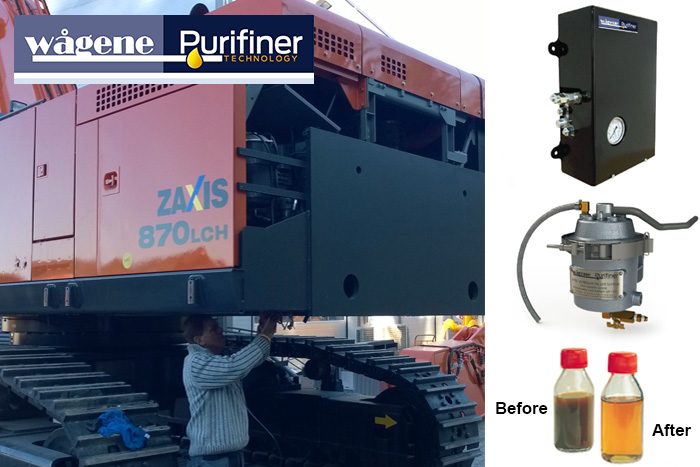 The unique way of evaporating water from the oil is something special for Purifiner. It is able to clean oil that has emulsified with water and give a result that is better than that of new oil.

Waagene Purifiner Technology has for many years seen the need for a system to clean oil on all types of construction and mining equipment. This type of equipment is exposed to heavy contamination, particles and water in the hydraulic fluid.

With background and results from the marine industry, Waagene Purifiner Technology has designed a special controller unit and filtration system for mining and construction. The system is installed directly onto the construction machine and cleans the oil while the machine is operating.

The system utilises the pressure of the hydraulic fluid, which can be as much as several hundred bar, in the unit and a reduction valve brings the pressure of the oil going into the filter down to three bar before it goes into the filtration unit. Then a 24-volt pump returns the cleaned oil back to the tank, even if the tank is pressurised.

The controller unit is very compact and small, the size is only 38 x 35x 14 cm and it weigh 11 kg. In addition comes a filter in various sizes, depending on the filtration capacity needed.

A distributor of excavators and a mobile crane company have tested the new filter unit in normal operation over several months, and achieved the highest quality of the oil and stable operation without problems with the hydraulic oil.

The new Purifiner from Waagene Purifiner Technology not only remove water and particles from the oil, and saves the machinery from breakdowns, it also reduces the general wear and tear on all the valves, controls and hydraulic pumps.

The result of this is:

Reduced downtime and costs related to breakdowns
Lifetime of oil extended 10-15 times
Lowered running costs
Lifetime of the equipment extended
In addition, you have the environmental impact contributed by less oil leaks, and longer lifetime of each oil change.