New Technology Makes It Easier to Apply BIM on Projects of Any Size
Building Information Modelling (BIM) has already been around for many years as a process and way of working to improve communication and collaboration to increase productivity and reduce errors and rework in the construction industry. BIM can be applied on different levels and parts of a project and consist of graphical and non-graphical information.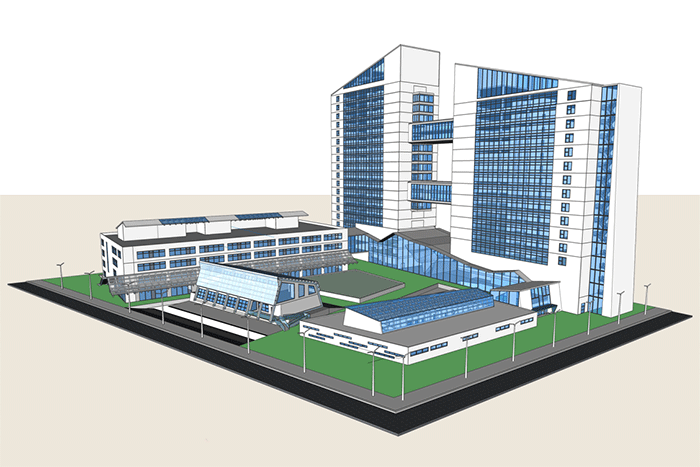 Some countries to mandate the use of BIM on all projects

While many countries have been using BIM for years, and some considering mandating the use of BIM on any type and size of buildings, it is only the last few years that BIM has gained some momentum in the Middle East. Then only on larger and complex buildings and projects.

Many have been hesitant to move to 3D modelling and BIM since it has meant changing the usual way of working and investing in expensive software and training. They have felt the process of moving to BIM costs more than what they gain from it. This is about to change with launch of new design software costing less and requiring minimal user training.

BIM software must be affordable and easy to use

The CEO of Belgium based software developer Bricsys, Erik De Keyser, is an architect who has worked with developing CAD software for more than twenty years. He says, "the use of BIM needs to be reachable for all working with architecture and design. This means that the software must be affordable, and easy to understand and use. It should also be fun to work with".

Free CAD software to kickstart the BIM workflow

With that in mind, Bricsys in January launched a free-for life 3D conceptual modelling tool for architects and engineers. BricsCAD Shape speeds up and streamlines schematic design and presentation work. Designs made with BricsCAD Shape are saved as DWG files and BIM ready. When the conceptual design is approved, you have already taken the first step in the BIM workflow.

From earlier, Bricsys has a cost-effective and IFC certified software for the full BIM workflow. BricsCAD BIM has a high level of built in automated assistance, including machine intelligence and automated processes.

After opening the DWG file created in BricsCAD Shape, BricsCAD will with on click turn your conceptual design into full BIM, with no rework or loss of information. It detects buildings and stories, classifies building elements, and identifies profiles. With this automated process, you have taken another important step in the BIM workflow.

Easy to learn and use

The user interface of BricsCAD is very similar to that of AutoCAD® and users trained on AutoCAD® should immediately be able to start working on BricsCAD. Designers familiar with AutoCAD® 3D already know about 80% of BricsCAD BIM. This reduces the BIM implementation process to weeks rather than months seen with traditional BIM software.

"With the introduction of BricsCAD Shape and BricsCAD BIM, we have taken an important step in helping the millions of AutoCAD® user with the transition to BIM", says Erik De Keyser. "We have given them an affordable application, BricsCAD Shape is even free-for-life, where they can continue using their knowledge from AutoCAD®, and not needing to go through extensive training on a new application with unknown user interface and processes".

BIM for better information exchange and cost savings

It is well known that BIM contributes to better information flow and reduced time and costs on a project. With BricsCAD Shape and BricsCAD BIM it will be easier to apply BIM on any size and type of projects. With more use of virtual reality, clients building a showroom or a villa, or changing their interior design, want to see how the design and layout will look like before it is being applied. For this you need a 3D design model.

3D printing and virtual reality

With the introduction of 3D printing of building materials and design features, BricsCAD's mechanical design capabilities will also help in designing these 3D objects. Everything from architectural design to BIM, mechanical design and models for 3D printing, can be done in the same application.

"So far, we have done a lot with BricsCAD and BIM. At our yearly Bricsys conference in October we will have more to come, and I am very excited with what we are working on", Erik De Keyser concludes.