Nikken Showcasing Multi-Billion Dollar Local, Regional, and International Projects
Leading Japanese Architectural, Engineering, and Urban Design Firm Nikken Sekkei is preparing to showcase a range of developments at this year's Cityscape Global event taking place at the Dubai World Trade Centre from September 25 – 27, 2019.

The projects, which are divided into five distinct categories, including Transit Orientated Development (TOD), Hospitality, Tall Buildings, Sustainable Structures, and One Za'abeel, are designed to showcase the breadth of expertise Nikken offers to developers around the world.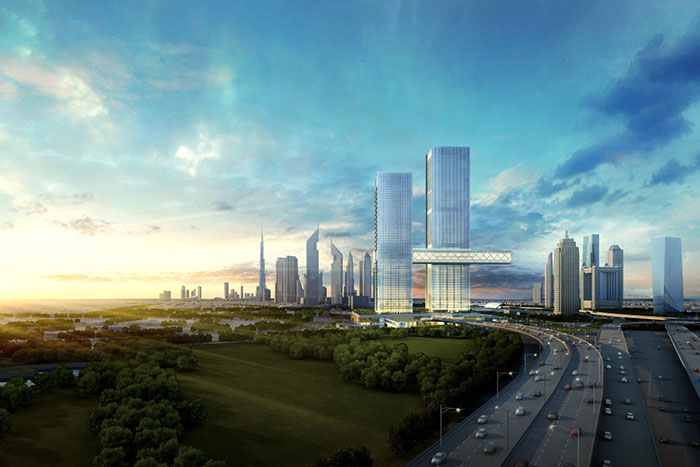 The mixed-use development One Za'abeel features a residential tower, ultra-luxury five-star hotel, a commercial tower, and retail destination, the Gallery.

The sleek, twin-tower complex will be connected by The Link, the world's longest cantilever, measuring 230 metres and weighing over 8,000 tonnes. It will float 100 metres above the ground and offer a choice of attractions including fine dining restaurants and lounges. The Link will be lifted and put in place from early 2020, posing its own unique challenges due to the weight and the elevation above the busy highway.

"Standing proudly in the heart of Dubai, One Za'abeel is set to become the new gateway as well as a new landmark of Dubai. The record-breaking cantilever structure between the two towers underscores the ambition, innovation and pioneering spirit of Dubai and further endorse the Emirate's 21st century credentials," said Dr. Fadi Jabri, Nikken's Executive Officer, Principal responsible for MENA, CIS, India, Australia and Europe regions.

The concept and design of Nikken's much-lauded wooden skyscraper in Tokyo, Japan, which was announced last year, will once again be on show, further underscoring the company's commitment to sustainable urban living and future urban constructions. The 5.5 billion US Dollar W350 mixed-use design project, which when completed will be the tallest wooden skyscraper in the world, is progressing with several concept studies continuing to take place to make the structure a reality and for the concept to be rolled out throughout Japan and the rest of the world.

"Our vision and the ultimate goal of the W350 structure is to contribute positively towards turning Tokyo into a more environment-friendly city and to support its transformation into an urban forest. We recognise that wooden structures are the future of sustainable design and construction and as such we're working hard to achieve this goal and make it a reality – to date our research and prototype studies have been very successful and won several international awards" added Dr. Jabri.

At Cityscape Global, Nikken will also display several TOD projects from around the world, including Shanghai's Huangpu River's west bank transformation. Incorporating Nikken's five concepts of TOD, namely Green Transport Modes, Walkable Network, Mixed-use/Culture, Smart/Eco, and Urban Symbolisation, are changing the old port into a lively district centred on art and culture.

Nikken's TOD development in Shapingba Station, located in Shapingba District of Chongqing will create a new landmark for the city. The company is also working closely with a Dubai developer for what will be the Emirate's first TOD project.

"The key is to show how we can start from strategic planning, then proceed through urban and public realm design, all the way to landscape and integration of traffic. We are convinced TOD is going to be increasingly important in the region, as public transit expands and customers seek out real estate projects that distinguish themselves with new services and amenities," said Dr. Jabri.

Another project being showcased by Nikken at the event, which will undoubtedly pique the interest of football fans, is the latest design updates and progress at the Futur Camp Nou - FC Barcelona's iconic football stadium - which will be expanded and renovated at a cost of 360 million Euros. Both the concept and schematic design have been successfully completed with the development design scheduled for completion by the end of the year.

Construction will begin in 2020 and will take place during the close season to avoid disrupting the football season. The stadium will undergo a complete refurbishment, a roof installation, with capacity also increasing from 99,354 to 105,000, and is expected to be delivered by 2024.

Dr. Jabri said: "It is very exciting to participate in the design of a new stadium, and ultimately building on the legacy of the existing stadium which is regularly beamed to millions of people around the world. The main theme of the project resonates with our corporate objectives to create meaningful public spaces and realise the lifecycle design (LCD) of architecture. We are determined to strive to produce a stadium that will be enjoyed and treasured by many."

Nikken will also showcase its collaboration with Australian design company Buchan, and a range of hospitality and tall buildings including the iconic Tokyo Skytree, the tallest broadcasting tower in the world.

@CityscapeMENA #CityscapeMENA