Nullifire for Passive Fire Protection Solution
Nullifire is a core brand within the Tremco illbruck Group and focussed on passive fire protection solutions.

No one knows more than Nullifire about fire protection in buildings.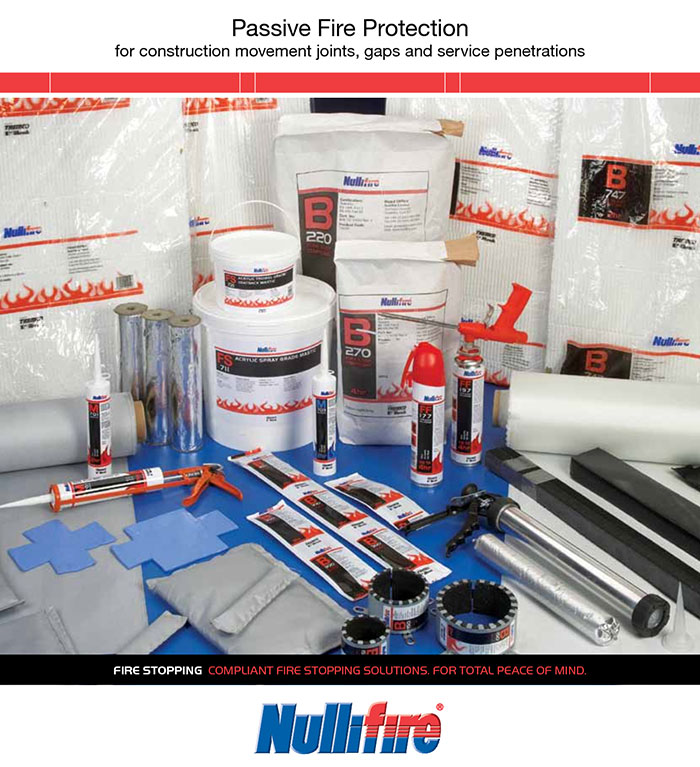 Nullifire has been pioneering intumescent technology and passive fire protection solutions for over 35 years, with an unchanging central focus: to save lives, protect property and minimise business losses. Today, Nullifire is recognised as one of Europe, Middle East and Africa's leading developers and manufactures of intumescent fire protective coatings.

Nullifire offers a comprehensive range of fire stopping coatings for the protection of steel structures and timber and fire stopping products that provide passive fire protection solutions to construction movement joints, gaps and service penetrations against fire.

Nullifire is available in the following categories:

Coatings
Sealants
Mortars
Joint Seals
Barriers
Pipe Closers
Tapes
Foams
Nullifire's innovative developments for the improvement of fire safety have been accompanied by a longstanding commitment to environmental responsibility. Nullifire S607 was the first water based intumescent system of its type, and has changed the face of intumescent industry, and began the evolution of the S707 range of coatings currently being sold around the World today.
All of Nulifire's products have been fully tested and approved to the latest European Standards, providing some of the highest levels of product certification.
The use of Nullifire products on your next project will provide a fire stopping system that is not only fit for purpose today, but will meet changing legislation in the future.
Nullifire can provide a system solution you can trust, and the most complete service expertise to assist where required.