Omniyat Appoints Brookfield Multiplex as the Main Contractor of One at Palm Jumeirah
Omniyat, the highly acclaimed Dubai-based real estate developer specializing in luxury properties, and the co-owner and development manager of One at Palm Jumeirah, announced the appointment of Brookfield Multiplex as the main contractor on Dubai's most prestigious project.

The construction of the G+23 LEED Silver building with a gross construction area of 107,795 square meter, is expected to take two years.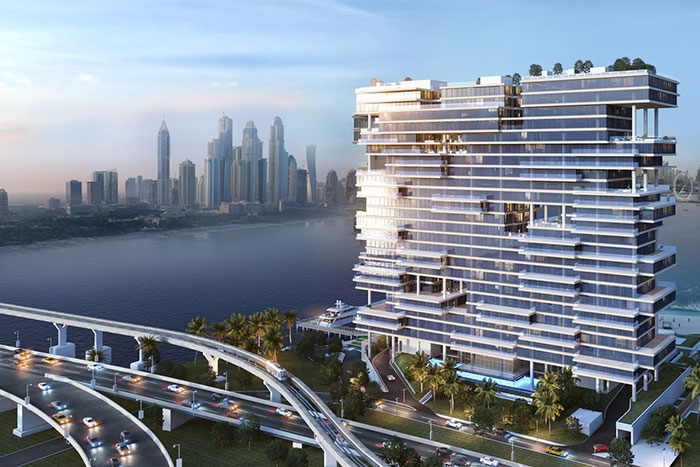 "I am delighted to announce the appointment of Brookfield Multiplex as the main contractor on the One at Palm Jumeirah," said Mark Phoenix, Managing Director of the Omniyat group. "Our relationship with Brookfield Multiplex goes back a long time and both the management and team have always demonstrated the highest level of expertise and professionalism."

John Ferguson, the Executive Chairman of Brookfield Multiplex said; "we are delighted to be chosen to build this unique and outstanding project, and we look forward to building on our existing relationship with Omniyat."

Envisioned by a team of world-class talent, the AED 2 billion architectural masterpiece was the outcome of an international competition held in 2014. It is located at the first plot on the trunk of Palm Jumeirah and houses 90 ultra-luxurious apartments distinctly crafted for the discerning clientele. The apartments start at AED 14 million and go all the way to the AED 200 million (USD 54 million) Penthouse hailed in the international media as Dubai's most expensive penthouse.

Expected to set the standard for this new era of luxury development in Dubai, the project's form is a pure expression of its function. Divided vertically into three cores, with each core allowing access to a maximum of two apartments per floor, it is designed to provide owners with unprecedented privacy and exclusivity.

The apartments, designed by Tokyo-based interior designer Super Potato, will be finished with extraordinary high quality materials, finishes, joinery, kitchens, walk-in closets and bathrooms. The landscaped terraces will offer panoramic views ofDubai's famed skyline, Burj Al Arab and the Arabian Gulf.

The One at Palm Jumeirah base will house three swimming pools, private yacht club, spas, gym, library, private cinema and spacious landscaped areas designed by the world famous Vladimir Djurovic.

"We're seeing buyers from as far as New York to as near as the Palm," said Phoenix.