Omniyat Group and Drake & Scull Break Ground on the One at Palm Jumeirah
This morning, Mahdi Amjad, Executive Chairman and CEO of the Omniyat Group and Khaldoun Al Tabari, Vice Chairman and CEO of Drake & Scull International (DSI), broke ground on One at Palm Jumeirah, the AED 2 Billion premium residential development located at the trunk of the Palm Jumeirah.

Members of DSI and Omniyat joined the two executives to celebrate the occasion. The ultra premium development is scheduled to be completed in 2017.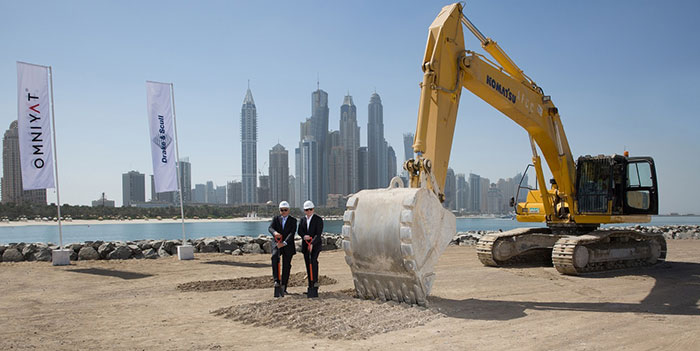 "We are absolutely thrilled to break ground today on what will be, in the near future, one of the finest residential developments anywhere in the world. Throughout the next three years, the Omniyat Group and DSI will work jointly to build this magnificent building to a standard, well beyond anything seen in high-end development," said Mahdi Amjad. "The 25 story tower, comprising 90 spacious apartments will be the most prestigious address in Dubai. Our swimming pools, indoor and outdoor, cinema, cigar lounge, super luxury spa and yacht club will be the most lavish of its kind. It is my intention to do something really special for our amazing city."

Being one of the highest residential developments at the trunk of the Palm Jumeirah, the One at Palm Jumeirah's 20,000 square feet penthouse will provide unobstructed 360 degree view of Dubai's skyline around the Palm and marina areas.

"One at Palm Jumeirah is specially crafted for the most privileged of the privileged few, which shows the commitment which is reflected in our design approach. Our aim is to release a project that can smoothly speak to the world and take the buyers through a journey of urban and premium lifestyle," Khaldoun Al Tabari said.

"The selection of this development was based on the strengths of the partners and teams, vision for the property and dedication to create an outstanding residential project," Al Tabari added.

One at Palm Jumeirah is a 50-50 joint venture between the Omniyat group and DSI and is a collaboration between Soma Architects from New York, Super Potato interior design from Japan and Vladimir Djurovic landscape architects from Lebanon.