Otis to Move Passengers at Kuwait Airport's New Terminal
Otis Kuwait has been selected for the new Passenger Terminal 2 at Kuwait Airport by LİMAK İnşaat Kuwait SPC which is contracted by the Ministry of Public Works, Kuwait. Otis, the world's largest manufacturer and maintainer of people-moving products, including elevators, escalators and moving walkways, is a unit of United Technologies Corp. (NYSE: UTX).

Otis will supply 190 elevators for the project. This includes 171 Gen2™ units with capacities up to 5000kg and 19 heavy-duty elevators with capacities up to 11 tons. The units feature the latest in Otis technologies like the ReGen® Drive, Gen2™ flat-coated steel belts and Pulse™ monitoring systems.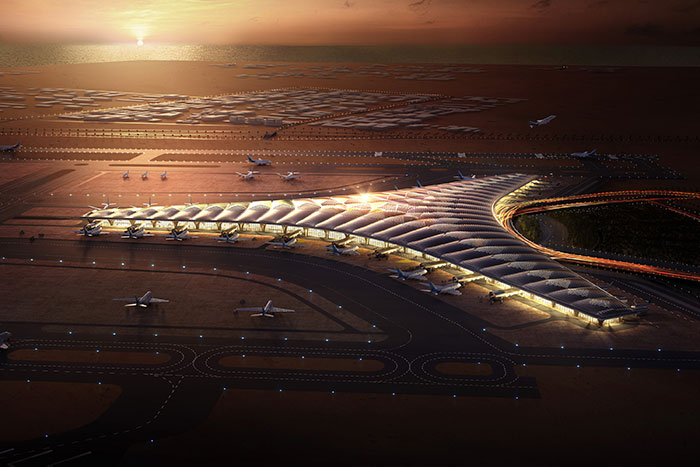 The scope awarded to Otis comprises of all elevators within the new airport terminal, expected to be complete in 2022. Otis operates in Kuwait as Otis Elevator Company Kuwait (KCSC), a joint venture company.

The New Passenger Terminal Building will significantly enhance the status of the airport as the gateway to the State of Kuwait. Kuwait International Airport is planned to significantly increase capacity and establish a new regional air hub in the region. This world-class building will provide passenger capacity for 25 million passengers annually and will spread across 708,000 square meters. The project will play a key role in boosting air traffic and meet the growing demand for air travel services in Kuwait.

"The new passenger terminal in Kuwait will be one of the region's biggest infrastructure projects, and we're extremely proud to be part of this landmark project," said Maged Nagib, vice president and managing director, Otis Middle East. "Otis is committed to Kuwait's fast growth and high standards of efficiency and traveler comfort."

"We are honored that our equipment has been selected for this prestigious project," said Cihan Ozkaraman, General Manager, Otis Kuwait. "The Kuwait International Airport Passenger Terminal 2 is a significant project for Kuwait and its aviation sector, and we are proud to be part of it."

@OtisElevatorCo #OtisElevatorCo #OtisElevator