Panasonic Eco Solutions to Address Residential Water Supply Systems
According to a Frost and Sullivan Market study, undertaken for Panasonic, UAE's urban population is expected to grow to 9.6 Million by 2020, accounting for 86.7% of the population by that year.

UAE's residential pumps market was estimated around USD 63.8 Million in 2014 by Frost & Sullivan and considering these figures, Panasonic Eco Solutions division expects the residential water pump market to reach USD 83.4 million by the end of 2017 with estimated demand to see CAGR of 9.5% until 2020.

With a wealth of experience in energy storage (battery), solar panels (HIT), smart metering and water pump technology, the company is aiming to bring in solutions that ensure sustainable use of energy and optimisation of water resources. Panasonic Eco Solutions Company sees strong business potential in the Middle East for its wide range of eco-friendly products. The company expects to achieve 20% growth in this segment by 2018 and is investing into development of products that are top of the class in terms of innovation, efficiency and durability.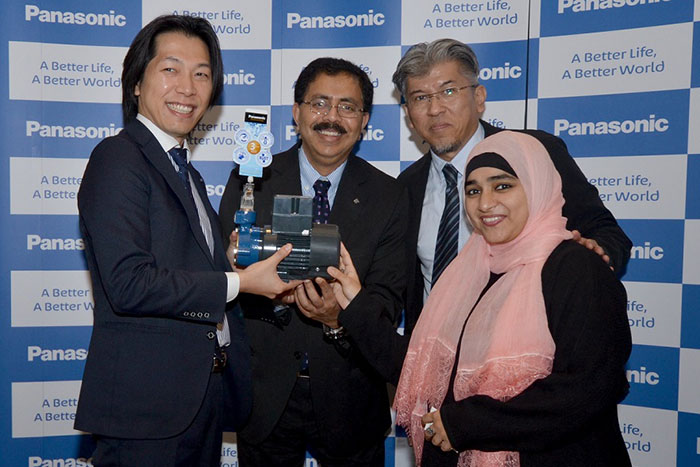 Panasonic's Eco Solution Dy. Managing Director for Hong Kong, Mr. Yuu Kai, while addressing media and partners at a roundtable held on Sunday (5 March 2017) said that UAE and the Middle East, in general, is a strong market for Panasonic's eco-friendly products such as Indoor Air Quality Solutions and water pumps due to specific environment conditions prevailing in the region, where sand storms and water resource management present challenges. He added that countries in the region, amidst challenges in meeting the growing water requirement for its rapidly growing population, industrialisation, are expected to spend on projects that will optimise available water use.

Demand for industrial pumps and residential water pumps have increased in the recent times, with non-oil industries like power generation, desalination, and wastewater treatment seeing continuous growth. The region is also investing hugely to better manage the scarcely available sweet water and prevent contamination.

Some of the trends viewed as important in the eco solutions industry in the region include the demand for energy efficiency and long-term service agreements, which are witnessing growing preference in the GCC. Panasonic with its local partners Al Futtaim is planning to bring in solutions that are better aligned with the local government's plans in renewable energy generation, energy efficiency, water resource management and sanitation projects.

Highlighting the product portfolio that the company is offering for the Middle East region, Mr. Hidenori Matsubara – Deputy General Manager, Panasonic Eco Solutions (Middle East & Africa) commented, "Being a customer centric company, Panasonic always customizes its products to offer best matching solutions for the customers and make their lives convenient. Our Eco Solutions products for Middle East are designed keeping in mind the climatic conditions, required durability and specifications."
He added, "Water is an essential part of life and the consistent rise in population definitely compels us to bring in our high-quality water pumps to address the future needs of Middle Eastern markets."

Panasonic has a long history of Water Pumps business dating back to 1955. Panasonic Manufacturing Indonesia started manufacturing Water Pumps in 1988 and since then the brand has earned trust of its customers while gaining no. 1 market share in Indonesia.

In March 2017, Panasonic Eco Solutions Middle East & Africa added 'Water Pumps for residential purpose' as a new category to their existing business portfolio offering Indoor Air Quality solutions. The pumps boast high performance, durability and reliability for the Middle East region offering an edge over other competition brands.

Panasonic has introduced 4 models of Water Pumps ranging from 0.5 HP to 2.0 HP which offer good suction, better head and comparatively high flow rate compared to other competitor brands available in the market. The product is specifically designed to withstand temperatures up to 50 degrees Celsius. Other brands currently available in the market can perform up to 40 degrees Celsius. The pump sets are capable of handling water of temperatures up to 90 degrees Celsius with maximum head of 46 m and flow rate as high as 154 L/min.

General Manager of Al Futtaim Panatech, Mr. Mausham Basu said, "UAE, the host of Expo 2020, is seeing a rapid boost in the housing market. High-end apartments and villas are witnessing significant demand due to the considerable amount of young, independent professionals in the country, especially in Dubai and Abu Dhabi. Therefore, due to the rising numbers of residential projects in the country, we see a huge demand of water pumps and aim to supply the best-in-industry products to our customers."