Peter Lik Launches LIK Squared, Gallery-Inspired Wall Décor
Award-winning photographer, Peter Lik, is proud to announce the official launch of LIK Squared, a cutting edge, online service that offers stunning imagery of all types to those who wish to complement their interior at an affordable price. After years of producing and printing award-winning photographs from his facilities in Las Vegas, Nevada, Lik has now chosen to use the same, state-of-the-art technology to provide an impressive assortment of hundreds of images that any enthusiast can easily purchase. Creating such an accessible portal to fine art photography is the next step for Lik, who has dedicated his life to sharing the most beautiful visions from around the globe.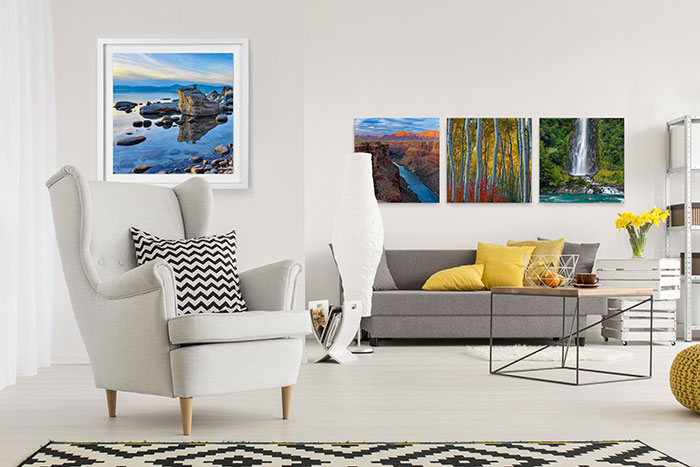 Already in full operation mode – heavily trafficked by both dedicated Lik fans and newcomers to the brand – LIK Squared takes a cue from its name, providing photographs in three available sizes, all of which are perfectly symmetrical in design. The company's premium Acrylic Prints are printed on Fujiflex Crystal Archive Media and mounted on Crystal Clear Acrylic, vividly exposing the texture, shape and color of each image. Perfect for any space, these signature Acrylic Prints can be purchased individually, in themed sets of four (which have been personally curated by Peter Lik), or as triptych mosaics.

"LIK Squared is a concept I have been dreaming about for years," states the Artist. "My ultimate goal, since beginning my journey over 35 years ago, has always been to share the most beautiful sights, places, and visions with as many people as possible. Nothing is more inspiring than getting lost in the sheer beauty of our incredible planet, and through LIK Squared, that concept has never been more accessible to the everyday photography lover."

LIK Squared Acrylic Prints come ready to hang right out of the box. Collectors can enhance their purchases by selecting one of many interchangeable framing options that make swapping out LIK Squared Acrylic Prints incredibly easy and perfect for the seasonal observer. Other offerings on the LIK Squared website including gift cards and an assortment of Peter Lik Coffee Table Books – Hawaii, New York, Las Vegas, and America – all available in sleek, magnetic slipcases, and, yes, they are all perfectly square.
Website:
http://www.liksquared.com