About Power Distribution Centers
Power Distribution Centers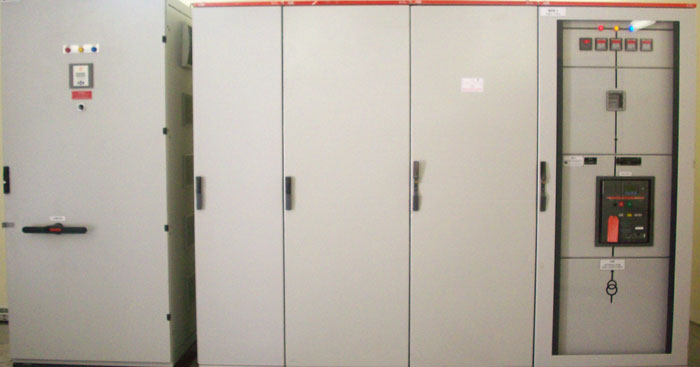 What is a POWER DISTRIBUTION BOARD?
Power distribution board is a system by which the electrical energy is transmitted via branches to reach the exact user. It is categorized into LV panels/ MDBs, SMDBs and the final Dbs.

Main Distribution board: The LV Panels/mains distribution originates at the mains intake which is located next to the transformer and radiates out throughout in a branching or tree like fashion.
Sub Main Distribution board: The Main Distribution board then feeds a Sub main distribution board which is installed half way through the mains distribution system, generally at the point where a large distribution cable terminates, and several smaller sub-circuits start
Final distribution board: The final distribution board is generally installed locally to where the electrical power is used (point of utilization).
The power distribution boards are used for plants, industries, domestic purpose etc.
Powetech's Role
Powertech Switchgear manufactures Power Distribution boards within these specifications:

Up to 4000A
Manufactured in form: 2, 3 & 4 construction as per the requirement of application. Under service conditions, Powertech's Form-4 panels provide ultimate safety/protection to the system and the users.
Feeder pillars & lighting control panels.
Type Tested Assembly as per IEC 60439-1
Main distribution Boards (MDBs).

Sub Main Distribution Boards (SMDBs).
Final Distribution Boards (FDBs).
26 23 00 - Low-Voltage Switchgear
26 25 00 - Low-Voltage Enclosed Bus Assemblies