PPR Pipes and Fittings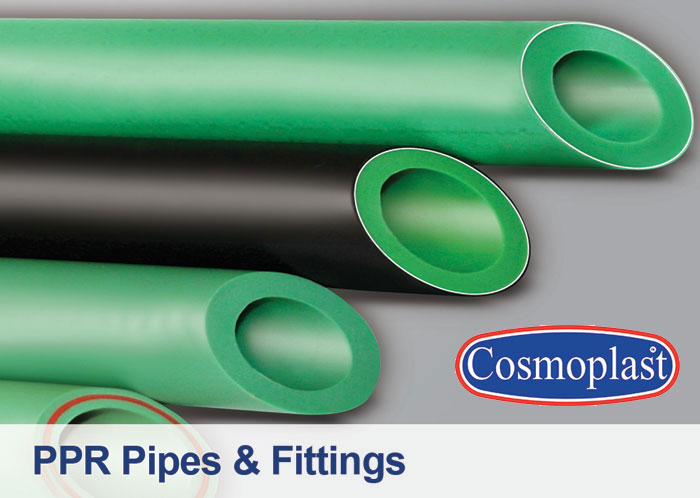 Cosmoplast is the largest thermoplastic pipe manufacturer in the GCC region with production facilities spread across Sharjah, Dubai and Abu Dhabi in UAE, Riyadh in Saudi Arabia and Moscow in Russia.
Cosmoplast PP-R pipes and fittings are manufactured according to German DIN standards with sizes ranging from 20mm up to 160mm. The outstanding temperature rating up to 950 C and pressure rating up to 25 Bar make PP-R system the ideal solution for variety of applications including:

Hot and cold potable water piping networks in residential and commercial buildings.
Heating systems.
Chilled water networks in air conditioning systems, as an effective light weight and corrosion free substitute for steel pipes.
Transport of wide range of chemicals in the industry.
Piping networks for rainwater utilization systems and swimming pools facilities.
Compressed air installations and other industrial applications.
Cosmoplast's on-going research and development programs continue to add new products to its pipeline system product range. Cosmoplast plumbing systems include PVC and HDPE pipes and fittings for drainage and sewerage, PPR and PEX pipes for hot and cold water distribution, pipe clamps and hangers, solvent cement and lubricants.
In addition this, Cosmoplast manufactures HDPE and GRP pipes and fittings, PVC and GRP manholes to cater to an extensive range of infrastructure development applications , pre-insulated pipes and fittings for the district cooling industry, LDPE pipes for irrigation lines, PVC wellcasing and screens for water extraction.