Public access lagoons to transform Middle East urban lifestyle
Crystal Lagoons, the multinational water innovation company and developer of the "world's top amenity", has outlined the company's expansion plans into new markets regionally and globally with a series of lagoons open to the public.

The new business model will consist of selling tickets to the public on a 'pay per use' basis with Crystal Lagoons receiving revenues as a percentage of ticket sales. Research in the US has indicated the company's current market share could double worldwide thanks to over 50,000 public parks, theme parks, public golf courses, malls, stadiums, university campus, zoos, social clubs, horse tracks and car tracks.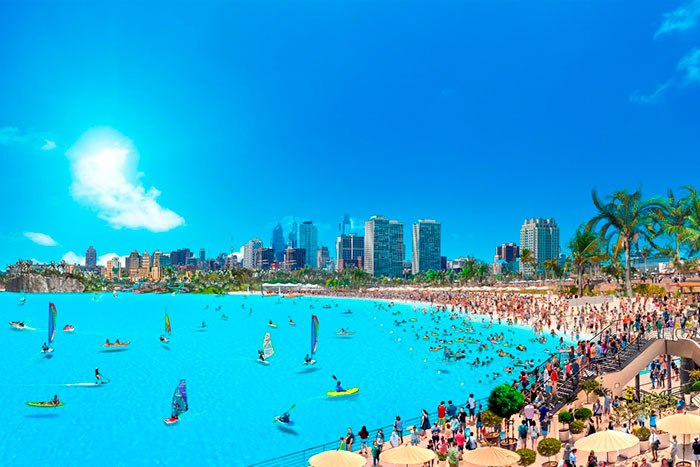 The idyllic concept of Public Access Lagoons, offering perfect beaches and accompanying scenery, will make them the must have 21st Century accompaniment to urban life, creating infinite business opportunities for Crystal Lagoons.

Carlos Salas, Regional Director, Middle East, Crystal Lagoons, said: "The business model for Public Access Lagoons is very simple, we generate a partnership with a developer and earn a percentage of the ticket income. Crystal Lagoons has already signed two projects in the U.S. and one in Turkey. Although discussions are at an early stage in this region, we believe there are endless opportunities in the Middle East with a range of theme parks, water parks, safari parks, aquariums and zoos which could benefit from stunning beach fronts and azure waters Crystal Lagoons is renowned for.

"The lagoons will allow venues to dramatically increase attendance as well as ticket price by upgrading to new leisure standards. In the Middle East, we've already held talks with developers in Abu Dhabi, Oman and Bahrain and are hopeful our first Public Access Lagoon in the region will be signed soon."

The lagoons are low maintenance and have the advantage of being sympathetic to the local environment, using up to 100 times less chemicals than a traditional filtration system and 98% less energy required by conventional water treatment systems, creating a viable, sustainable solution, despite challenges such as water and energy supply. They also use any kind of water including brackish from underground aquifers, eliminating the need to consume valuable fresh water resources. Construction costs are also minimal, creating a viable and economic option for developing the lagoons.

Globally, under the Crystal Lagoons' traditional business model, consisting of partnering with real estate developers to construct crystal clear lagoons, the company has amassed a portfolio of 600 projects in varying negotiation and development stages in 60 countries, underscoring the popularity of the technological advances the company has made to the global tourism and real estate markets.

In the Middle East, Crystal Lagoons is strengthening its hold on the region with the development of lagoons in projects worth a massive US$25 billion.

In Egypt, the company is developing its very first mountain top lagoon in Il Monte Galala in Sokhna, Egypt. Crystal Lagoons is also developing its first lagoon in Jordan in the Al-Rama region of the country, just 30 minutes from the capital, Amman. Saudi Arabia is also set to announce its first lagoons in the coming month.

In Dubai, Crystal Lagoons is working on the second phase of the lagoon at Meydan Sobha LLC FZ, the joint venture between Meydan Group and Sobha Group, to develop, once completed, the largest manmade lagoon in the world, forming an integral part of the Mohammed Bin Rashid Al Maktoum City – District One residential development. The lagoon will measure more than 36 hectares in size.

"The Middle East region is a key area of growth for us and has been one of our most successful and profitable regions when compared to other markets around the globe. We are looking to capitalise on this with the launch of the Public Access Lagoons model however we remain committed to benefiting the real estate and tourism markets to bring an idyllic beach lifestyle to anywhere in the world, at very low construction and maintenance costs."