Ras Al Khaimah With the Longest Suspended Bridge in The Northern Emirates
Ras Al Khaimah has achieved another architectural landmark that will add to its touristic attractions: The longest suspended bridge that connects the two buildings of the new Mövenpick Resort Al-Marjan Island.

Mövenpick Resort Al-Marjan Island, the hospitality project by RAK AMI Hotel, a company focused on developing and manage hotels, is located in Al-Marjan Island, the flagship lifestyle and leisure destination of Marjan, the master-developer of freehold property in Ras Al Khaimah.

Arch. Abdulla Al Abdooli, Chairman of RAK AMI Hotel, said: "The suspended bridge is designed to be an iconic feature of the Mövenpick Resort Al-Marjan Island that will add to the aesthetics of the project and create an inspiring architectural marvel that delight visitors to Al-Marjan Island. We are progressing with the construction of the hotel as per schedule, with an international team of professionals on-site."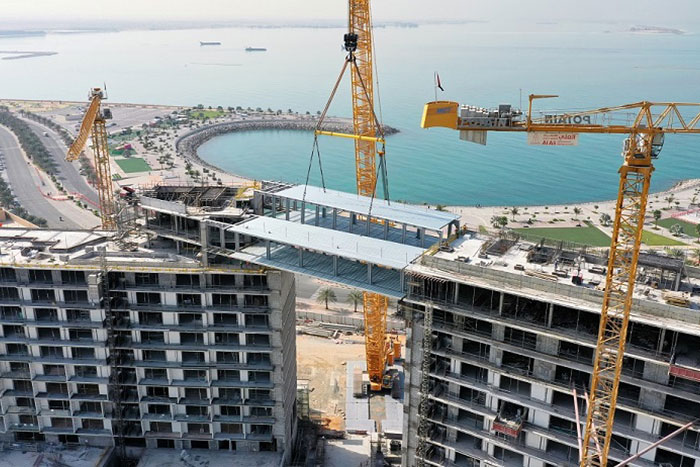 The suspended bridge is one of the stand-out features of the hotel with a development value of AED 543 million. At 36 metres long, it will feature eight hotel rooms. The bridge is supported by four main trusses, each weighing 55 tonnes. Each truss is 4 metres high and installed at a height of 44.2 metres.

The bridge was assembled at the ground floor in two pieces comprising two trusses each, and lifted in place using a 650 tonne crawler crane. The bridge is fabricated using 310 tonnes of structural steel. The bridge project was completed in around 65 days by over 55 professionals and skilled workers.

A unique engineering marvel, the bridge is expected to become a leading tourist landmark and add new economic value to Al-Marjan Island and Ras Al Khaimah, in addition to offering picturesque views for the residents in the hotel rooms located within the bridge.

Mövenpick Resort Al-Marjan Island will be delivered as planned by September. The hotel is set in elegantly landscaped gardens with its own secluded white sandy beach. It will add 418 hotel keys, all with direct sea views.

Al-Marjan Island has over 1,600 operational five-star hotel keys, including Rixos Hotels, Hilton Hotels & Resorts and Accor Hotels, and more than 2,000 residential units including Bab Al Bahar residential and Pacific by Select Group.