Redesigning the Branch: Banks in the Middle East Reinvent their Designs to Stay Ahead of the Curve
While sound flow of deposits and rise in customers form an important part of the growing banking sector in Lebanon, redefining customer experience is another key element that continues to be an engine for the positive growth of the sector. Several banks in the country, are therefore revamping their design and interiors given recent changes and trends in how customers choose to interact with banks.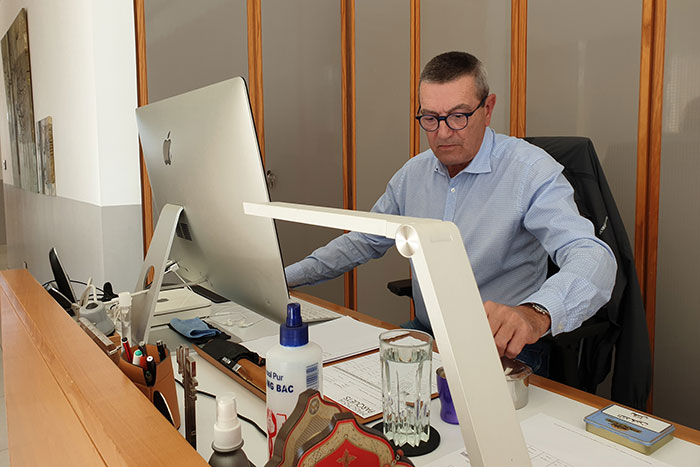 Mr. Halim Harmouch, CEO of Harmouch Interior Design.
A report by the Lebanon Weekly Monitor of Bank Audi indicated that the Lebanese banking sector witnessed a rise in the assets and deposits made by customers in 2018 in comparison to its respective figures in the previous year. It was observed that the banking sector recorded a $4.7 billion worth of growth in customer deposits during the first six months.

"The banking sector in Lebanon is witnessing a robust growth. Given the surge that it is experiencing, banks in the country have redefined their business strategies to set benchmarks in the customer experience journey. Thriving banks recognise the importance of investment in design, furniture and finishes to keep their customers returning. As such, several banks in the country and across the region are now focusing on redesigning their interiors to improve customer service and stay ahead of the curve," said Halim Harmouch, CEO of Harmouch Interior Design.

Harmouch Interior Design comprise of a highly qualified professional team from the best Interior Design schools in Europe and the Middle East, led by MM Michel and Halim Harmouch. The leading interior design company has worked on several banking projects in Lebanon and Middle East including Audi Bank, Central Bank of Lebanon, Bank of Beirut, Bank of Lebanon and Arab World, First National bank and several others.

In Lebanon, bank formats are breaking the traditional transactional and functional approach to provide agile, flexible and welcoming ambience to customers. Excellence in design and re-imaging the user experience has helped several banks dominate their industry.

"Bank branches, which were once designed as functional spaces, have now become engagement zones which are inviting and welcoming, to enhance the customer experience. As such, the design that we create for banks is both welcoming and attention grabbing," added Harmouch.

To ensure that the banks offer enhanced customer experiences, Harmouch's designs are characterised by lightness, interactivity and a boutique feel. The company uses sustainable materials, which are eco-friendly as well as adhere to international health and safety standards. Creating original, intuitive and extraordinary places, Harmouch's designs are conventional, yet ultra-modern and convenient.

"In today's time, where experience is the key, it is befitting that banks adopt innovative design elements to make their services more accessible and convenient. Simple and subtle designs with a personal touch can do wonders. At Harmouch, we are committed to offer our customers the right solutions that meet their requirements as well as be the leading provider of interior design solutions, evolve and maintain our expert system to generate increasingly innovative designs," concluded Harmouch.

Recent research by market analysts Ventures revealed that the value of interior-based design and fit-out spend has risen from $15.5 billion in 2016 to $17.7 billion this year, with the steep rise attributed to near-constant innovation and what experts describe as ever-changing personal preferences.

#HarmouchInteriorDesign #InteriorDesign #Interior #Design