Region needs to up-the-ante on fire safety.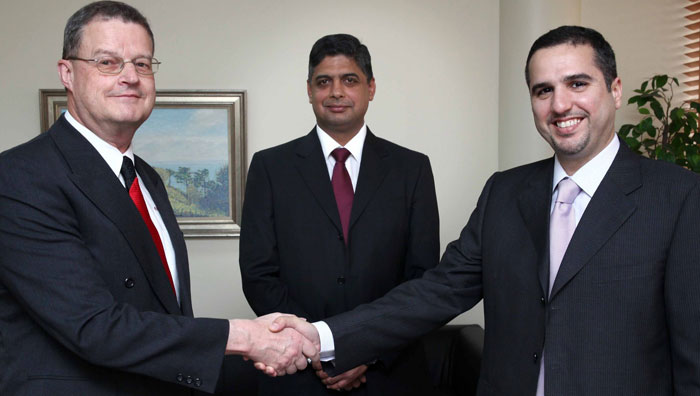 Tim Williams, Export Sales Manager, Eurotech Fire Systems Limited and Yusuf Abdulrahman Fakhro, Director, Yusif Bin Yusif Fakhro with Ajai Datta, General Manager, Yusif Bin Yusif Fakhro seal the deal to bring world-class fire safety to the GCC.
The recent outbreak of fires region-wide should be seen as a signal for governments, organisations and communities to ensure that world standard safeguards are in place, according to Mr. Yusuf Abdulrahman Fakhro, Director of Bahrain-based, Yusif bin Yusif Fakhro (YBYF).
Figures show that the incidence of fires is on the rise in some countries, including Bahrain, and that there is a reported increase in fire-related deaths and injuries.
"Human lives, homes and resources are of paramount importance to organisations and society at large and we must take the spate of fire-related incidences as serious warning signs. We must take measures to ensure that the right fire safety systems are in place, across the board," Mr. Fakhro stressed.
He said that Safe & Sound, a division of YBYF, has recently joined forces with a leading provider of international standard fire safety systems, Eurotech Fire Systems.
"It is a timely decision for us to enter this critical sector with a world leader. Eurotech is considered a pioneer in the sector with a sterling track record in fire protection systems. Indeed, they have been recognised as 'dedicated visionaries in the life safety industry'", Mr. Fakhro said.
The joint-venture brings the nationally and internationally certified fire detection system Eurotech - which has a strong presence in Oman and UAE - to Bahrain. Mr. Fakhro said that this is a 'first of its kind' in Bahrain and that Eurotech features one of the most experienced and technically qualified teams in the fire detection and alarm industry, offering implementation, management and overall maintenance services related to the system.
"Eurotech is passionate about creating fire detection products that save lives, protect investments and so help nurture society," Tim Williams, Export sales Manager for Eurotech said.
"We have observed the unfortunate spike in fire-related incidents across the Middle East and it is imperative for us to leverage our inherent strengths, of products, support and systems, to minimise re-occurrences."
Mr. Williams noted that YBYF's Safe & Sound is the ideal partner for Eurotech: "Yusif bin Yusif Fakhro is a perfect match for us. They bring 30 years of experience to the table, and share our sentiments on safety, service and sustainability."
Meanwhile, Ajai Datta, General Manager of the Safe & Sound Division stated that the joint-venture looks to introduce Eurotech's comprehensive product range to residential and commercial property developers in the public and private sector, to real estate owners, contractors, and to the industry in Bahrain at large.