Renovation of a luxury apartment in Monte Carlo
On Boulevard Charlotte in Monte Carlo, in an area next to the old town of the Principality of Monaco where development work began in the second half of the 19th century, stands a building dating back to the early decades of the 20th century that is adorned with "sedate and sophisticated" art nouveau features.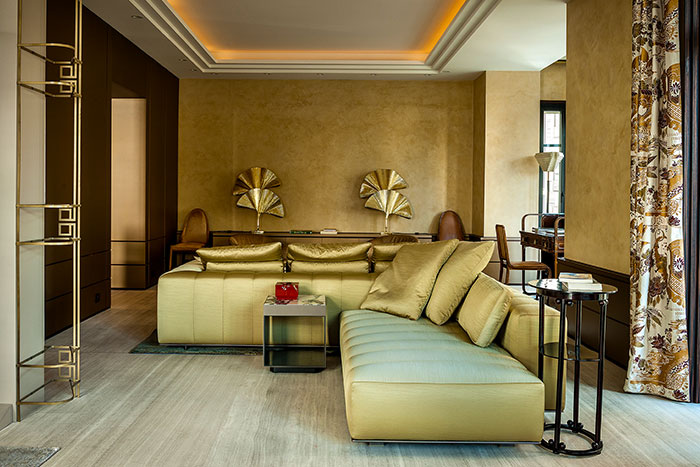 Inside is an apartment that has been completely renovated by its new owners. Margraf marble plays a leading role in the design scheme, which aims to give a contemporary twist to the building's historical style and help it fit into the rearranged layout. The goal was to take an apartment that was lacking in atmosphere and make it into a home as refined and exquisite as early 20th style.

In the new interior layout, the "living space" – which contains a huge living and dining room and a smaller kitchen area – lies to the South, which is the brightest part. On the opposite side is the "sleeping area", which boasts a bedroom, a bathroom and toilet facilities in the same "master" space as two walk-in wardrobes. Rounding off the area are two guest bedrooms.

The historical influences are plain to see in many aspects of the interior design, including the wooden panelling that is found throughout the "living area", the furniture (which was designed and made to measure) and finally the ceilings and walls.

Margraf marble has been used as a covering material to create an atmosphere that pays tribute to art nouveau: Silk Georgette has a predominant role, appearing on the floor all over the apartment, as well as on the master bathroom walls and basins, while Arabescato Rosso Orobico was used in the spellbinding guest bathroom near the entrance. In addition, the showers in the bathrooms of the guest bedrooms have Nero Portoro and Travertino Rosso coverings.

The striking bathtub in the master bathroom has an original leaf shape that was sculpted out of a block of Onice Verde.

The owners collect Oriental and contemporary art. They have helped to enrich the rooms by adding Tibetan doors, Chinese screens and enchanting jade pieces.

All of the systems were radically overhauled and there is now a practical home automation system to control them. This gave the finishing touch to the renovation work, which took two years.

Design and site management: Fulvio Caputo and Maria Chiara Spina of CandC architecture and engineering, Venice.

@margrafspa