Retrofitting existing built environments in the UAE is crucial for meeting carbon emission targets
As we move closer to global timelines for eliminating carbon emissions by 2050, the building and construction industry has a central role in aligning themselves with these global mandates as the sector is responsible for almost 40 per cent of the world's carbon emissions. Building retrofitting is an important method for improving energy efficiency of existing buildings, which not only contributes to a more sustainable built environment, but also contributes to the mitigation needed to reduce the building industry's impact on the climate.

The UAE is taking significant steps in this direction. The Dubai Supreme Council of Energy has set the goal of reducing Dubai's energy demand by 30 per cent by 2030, and retrofitting existing buildings is an integral part of the strategy. The Dubai Electricity and Water Authority (DEWA) has invested over US$8 billion to retrofit 30,000 buildings, and once complete, it will secure an expected monetary savings of over US$22.33 billion as well as total savings of one million tonnes of carbon dioxide, 5.6bn imperial gallons of water and 1.7 terawatt hours (TWh) of electricity by end-2030.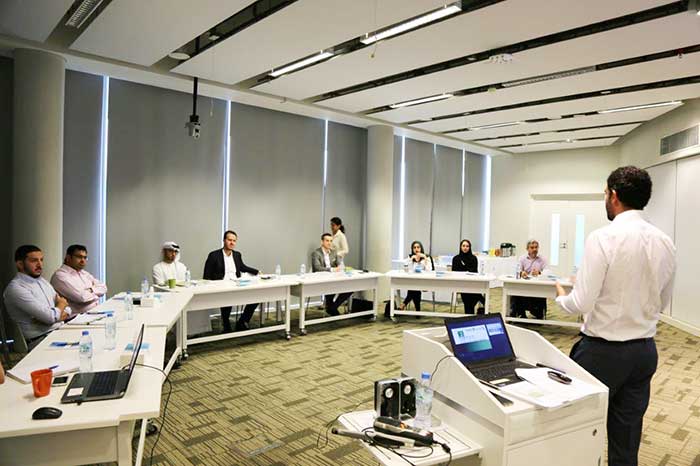 To support the nation in its move towards higher levels of environmental sustainability, the Emirates Green Building Council (EmiratesGBC), an independent forum aimed at conserving the environment by strengthening and promoting green building practices, has rolled out its 2019 Building Retrofit Training (BRT) calendar. This year, there are two types of BRT workshops – an introductory and an advanced course. Conducted in partnership with the Dubai Supreme Council of Energy and Masdar (Abu Dhabi Future Energy Company), the certification-based training are held in Abu Dhabi and Dubai.

Saeed Al Abbar, Chairman of EmiratesGBC, said: "We can ensure future buildings are sustainable through new regulations and innovations in sustainable technologies, but a concerted focus needs to be made around the large stock of buildings that already exist and their contribution to decarbonisation of the built environment. In addition to our own national targets, there are two important global deadlines approaching - the first is achieving Net Zero Carbon in new buildings by 2030 and the second is ensuring all buildings are Net Zero Carbon buildings by 2050."

"Our Building Retrofit Training programme is a great first step in guiding the industry towards achieving these critical emission targets through retrofitting, which can be cost-efficient, ensure a longer lifespan for the building and have a better return on investment. I am confident that the Building Retrofit Programme can support the nation's agenda and facilitate the process for industry professionals to physically start implementing their own retrofit programmes," added Al Abbar.

Over the past few years the BRT programme has had many participants from across the industry who have praised it for its thorough methods in approaching retrofitting in the UAE market.

A Sustainability Engineer from a Government Organisation who participated in the Advanced Course said: "I would like to personally thank EGBC for introducing the BRT as it became really a good reinforcement to tackle the issues concerning the built environment especially the existing buildings. Truly, if majority of the building professionals, owners and the building occupants are aware of the impact of buildings, EGBC's launching of the certification for Building Retrofit specialists will paved the way to transforming buildings and the built environment in general as high performing and low to zero carbon places on earth."

"I took BRT because I am a non-technical professional entering the retrofit sector in Dubai, I currently hold a position in business development working on demand side management. This course gave me a solid overview about how to begin understanding a building/villa/structure from a retrofit perspective and the current legislation and trends in the UAE," commented a Business Development Manager, Energy Consultancy, who participated in both the Introductory and Advanced courses.

The BRT programme is complimented by the EmiratesGBC Technical Guidelines for Retrofitting Existing Buildings that is available in Arabic and English, and serves as a valuable reference text for all industry stakeholders to achieve higher levels of energy and water efficiency by retrofitting existing buildings.

The Introductory course is a one-day workshop. No prior experience or qualifications are required for the course and it is suitable for professionals of all levels and anyone interested in understanding the fundamentals of building retrofit. The course provides an overview of viable retrofit methods applicable in the Gulf region and covers five building management categories including: energy, water, air quality, materials and waste and innovative management, and is conducted by expert facilitators.

The Advanced course is a two-day workshop and participants successfully passing the post-course examination will become an EmiratesGBC certified Building Retrofit Specialist. The course is designed for industry professionals with prior knowledge and experience of sustainability and retrofit procedures. The course will also provide methods on the technical capacity for more effective post-retrofit maintenance and preventive care. To date the course has led to 15 participants becoming certified building retrofit specialists.

The next Introductory courses will be held on 26 June, 4 September and 20 November in Dubai; and 7 August and 23 October in Abu Dhabi. The Advanced courses will be held on 30 June - 1 July, 25-26 September and 11-12 December in Dubai.

@EmiratesGBC #EmiratesGBC