Revolutionize your daily shower experience with PowderRain
The daily shower has become a special part of everyday life. The bathroom is a feel-good oasis where you can escape and recuperate from your hectic schedule. It's a place in the home where you can retreat; to relax, to destress and to switch off.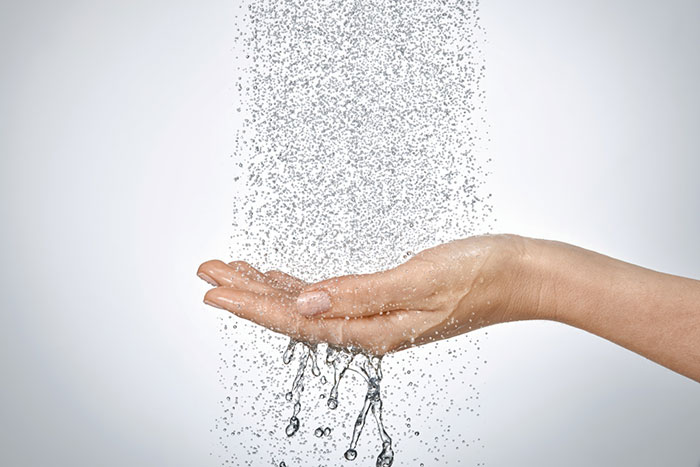 hansgrohe has developed a shower spray to make the showering experience even more special and aid in that relaxation moment. It's an innovation that will transport you out of your everyday and into a new world of showering. Thousands of fine and silky micro-droplets cover the skin, giving you free rein to get lost in your thoughts and indulge your senses.

More spray outlets for gentle micro droplets

With the newly developed micro spray technology a single PowderRain spray is much finer than conventional shower jets. Instead of only one spray outlet per nozzle, PowderRain has six fine openings that transform the spray into thousands of micro droplets by means of sophisticated technology. They are so light that they fall gently on the skin without bouncing off. This automatically reduces splashing: a great advantage in open showers, also requiring much less work when cleaning the shower area.

"And the sprays are arranged more densely as well, which intensifies the moistening of the skin," Jan Heisterhagen,Vice President of Product Management, explains. A shower experience that pampers all our senses also includes pleasant acoustics. In Hansgrohe's new sound laboratory, experts were able to reduce shower sounds in PowderRain by about 20 percent. The new Raindance Select S 120 P hand showers featuring PowderRain are quiet as a whisper, also contributing acoustically to an overall experience of pure relaxation.

Mini droplets – maximum effect<br>
When concentrated, many small things often produce a strong impact: another principle of nature that makes the new PowderRain spray so effective. Due to the greatly increased number of droplets, water covers larger areas of the body. This makes PowderRain particularly effective, for example, when rinsing out shampoo. This new spray mode helps save water too: PowderRain lowers water consumption in handheld showers by about 30 percent to just 12 litres per minute. Less water also means lower energy consumption.

Experience PowderRain in hansgrohe products

PowderRain is featured for the first time in the hansgrohe Raindance Select S 120 handheld shower, indicated by the initial "P". This hand shower offers three spray modes: Rain, Whirl Air and now PowderRain. Thanks to its full, rain-like shower spray, Rain is ideal for everyday showering routines. Whirl is a powerful, concentrated massage jet that stimulates muscles and skin. With its gentle micro sprays, PowderRain provides a deeply relaxing and pleasurable experience.

Available product ranges featuring PowderRain also include Raindance overhead showers, shower sets and showerpipes in combination with concealed and surface-mounted mixers and thermostats. In this way, it is possible to bring this extraordinary shower feeling to any bathroom regardless of installation requirements.