Rewarding sustainability at The Big 5 Gaia Awards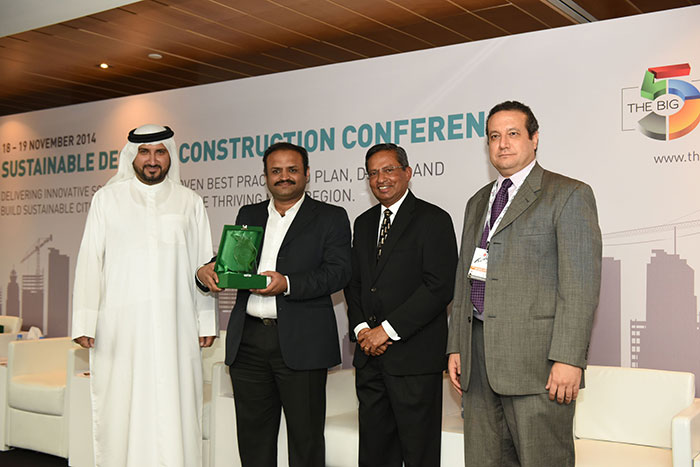 The 12 winners for the 2014 Gaia Awards at The Big 5 were announced this week, rewarding companies from several industries for their sustainable products.

The winners were considered based on two rounds of judging through online applications. About 30 finalists were chosen before the final results were revealed.

The winners included companies within several different industries including HVAC specialists, flooring experts, steel professionals, and building systems.

The list of winners has been release and includes experts from several different fields and businesses. MMFX Steel DMCC, Interforce, Gulf Extrusions Co, Mahy Khoory & Co. and Synergy United were among those that were successful with their applications.

Insinkerator Middle East was also one of the winners, presenting a food waste disposer found to be cleaner and offers users a more convenient and highly hygienic way of disposing food waste, decreasing bacteria growth and insects in the kitchen.

Spanish company Xtraice, a synthetic ice producer, won for developing the first self-lubricating ecological ice used for ice rinks.

In a statement, it said: "Xtraice offers an alternative to the conventional ice rinks: self-lubricated ice. Xtraice has created a responsible product to the environment, with zero CO2 emission and energetic costs."

Jacob Thomas, Marketing Manager at Senergy United explained why the Ciralight Suntracker was the best product to when at this year's awards.

He said: "Ciralight Suntracker was the most eligible to receive the award as it utilizes the most abundant renewable energy (Sunlight) in MENA and reduces the biggest problem facing MENA (Power Shortage), while improving the lives of the building occupants through the exposure to daylight. It's a Win-Win-Win for Energy Conservation, Environment and Nature."

Established in 2008, the Gaia Awards were created as a way to encourage participants to promote their sustainable work and endorse a message of greener building solutions.

2012 Gaia Award winner Nest Thermostat, a next generation device that learns schedules, programs itself and can be controlled from a smart phone, went on to join Google in 2014, and is now available for purchase worldwide, including global giant Home Depot.