RIBA Leads Design Charette at 2019 Cityscape Global
The Royal Institute of British Architects (RIBA) will be holding an engaging live design event on the opening day (25 September). of Cityscape Global at the Dubai World Trade Centre. The RIBA design 'charette', part of the event's Cityscape Intelligence feature, will bring together multi-disciplinary professionals who will work in teams to produce an original design to improve connectivity and integration between areas of Dubai – the so-called 'spaces in between.'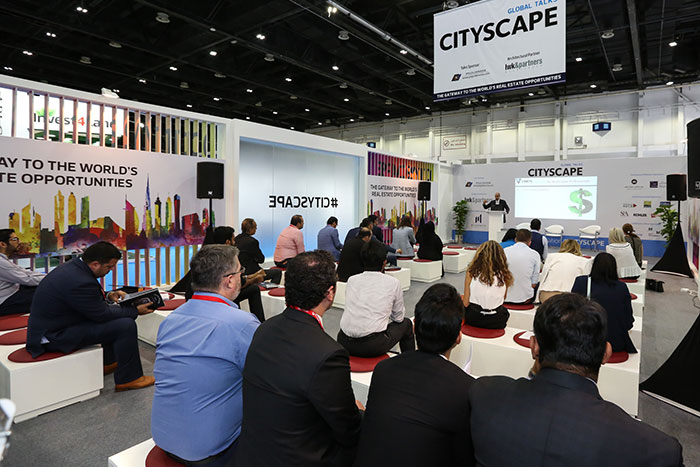 "Proposed schemes should address how to improve the public realm and design interventions that will improve the experience of Dubai for its citizens and create vibrant sustainable communities," explained Chris Williamson, RIBA's International Vice President and co-founder of Weston Williamson Architects.

The teams, comprising architects, planners, surveyors, engineers, developers and architectural students from Abu Dhabi University and the Heriot-Watt Dubai campus, will be charged with designing "a more human centred city" and creating lively spaces that stimulate interaction between people and communities while addressing the city's proliferation of roads and reliance on cars.

The teams will present their proposals to an audience in a live, review session which will feature a panel of expert judges chaired by Chris Williamson. "We expect attendance by developers and policymakers in addition to architecture and design professionals," explained Williamson. "The session will give the audience an in-depth look into the ideas behind the schemes and reveal how large-scale urban design problems can be tackled.

Williamson said successful proposals will demonstrate sensitive consideration to Dubai's urban form in line with the Dubai Universal Design Code including the provision of green space and community areas, accessibility, sustainability and pollution reduction, connections between city zones and address the effects of a motorway running through the city centre.

The charette, he said, would help focus minds on a prevailing issue which has concerned the country's architects for some considerable time.

"Architects across the UAE have long argued that the country's public realm needs to better focus on the pedestrian experience and place-making, which can be achieved through the use of public art and further integrating transportation technology advancements into public space design," explained Williamson.

"Over the years, some developments in Dubai have been independent of each other and this had led to disparate entities with little or no emphasis on a more connected urbanism and on the people, their health and how urbanism can improve their lives. As the UAE continues to grow apace, developers and critically UAE citizens are increasingly recognising the value of the public realm, as 'spaces in between' are transformed into integrated neighbourhoods, providing context for architectural structures to thrive, and the surrounding communities to bond and flourish."

The RIBA charette is just one element in an upscaled Cityscape Global knowledge exchange programme which includes the annual Cityscape Global Conference on September 24th - a day before the exhibition starts - at the InterContinental Dubai, Festival City. Both buying and architectural trends will come in for focused examination at the conference which encompasses three distinct streams: 'Investment, Development & Trends', 'Architecture & Design Programme', and PropTech & Innovation.

"Delegates will hear from the industry's most influential thought leaders including business analysts, innovators, government officials and strategists, who will share their insights and knowledge through powerful discussions and thought-provoking presentations," said Chris Speller, Group Director of Cityscape. "The RIBA charette demonstrates Cityscape's close affiliation with the entire spectrum of development professionals and its ability to push the envelope on pressing future issues which could change the way we all live and work."

Following the conference is an evening of conversations and connections for delegates and architecture professionals. The Architecture and Design Networking Reception powered by RIBA and Department of International Trade UK (DIT) will give attendees an opportunity to hear from the industry heavyweights including Alan Vallance, RIBA Chief Executive; Simon Penney, Her Majesty's Trade Commissioner for the Middle East, Afghanistan and Pakistan; and Dr. Robert Platt, VP Visitor Experience Integration, Expo 2020 Dubai.

Cityscape Global's knowledge programme will also feature free-to-attend Cityscape Talks which will take place on the exhibition floor on September 26 and 27. Cityscape Talks is a live content offering that covers a range of subjects within the various real estate asset classes; residential, commercial, both office and retail, industrial & logistics, hospitality, and alternative assets.

Cityscape Global is sponsored by Platinum Sponsor: The Ministry of Municipal and Rural Affairs in Saudi Arabia; Official Partner: Arada; Strategic Partner, DLD; and Foundation Partner Nakheel.

The Cityscape Conference is sponsored by Platinum Sponsors: Maisonette and Provis; Gold sponsors: C. Savva & Associates, Eltizam, Kohler and Colliers International; and Silver sponsors: Altus Group and Mott MacDonald. Cityscape Talks is sponsored by Kohler, Provis, LWK+PARTNERS and Maisonette; Arton Capital as Global Citizenship Partner; Regus, Workplace Partner; and LWK+PARTNERS as Architecture Partner.

@CityscapeMENA #CityscapeMENA @RIBA #RIBA