Room operation with a special touch
The Siemens Building Technologies Division has added a Touch Panel solution for room operation to its line of room automation products. The solution is based on web standards and provides intuitive operation of lighting, shading, HVAC installations and other equipment.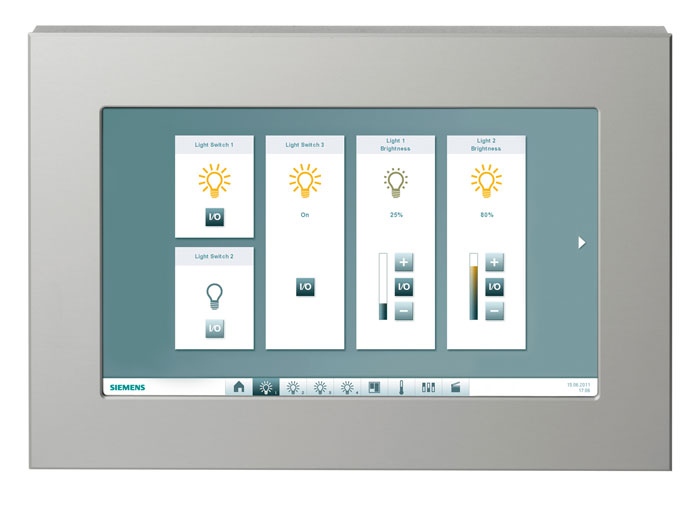 A variety of operating controls are typically found in rooms with a large number of different elements (HVAC, lighting, shading, projectors, etc.), or those that have a complex floor plan. With its new Touch Panel solution for room operation, the Siemens Building Technologies Division eliminates this bewildering array of switches and buttons. This solution integrates all operating controls used in the room into a central touch-sensitive screen, thus providing a single user interface for intuitive operation of all disciplines and devices. The Touch Panel solution from Siemens is suitable for meeting, conference and training rooms as well as for open-plan offices and offers central control of entire floors and zones. In addition, the system is ideal for use in hotels and hospital rooms.
The Touch Panel solution from Siemens is nearly infinitely scalable and maximizes customer flexibility. The more control options that are integrated, the easier it is to see the cost advantages over a conventional solution based on switches. Changes to room usage or new room partitions resulting from organizational or tenant changes can be made right in the software. This often eliminates the need to lay new cables or install additional switches. The Touch Panel solution can be used with screens of different sizes permanently installed in the wall as well as wireless mobile panels.
Flexible and intuitive
The graphic user interface of the Touch Panel solution is both user friendly and clearly organized. The interface is designed so that users can access predefined scenarios and frequently used functions right from the start screen; only in rare cases is it necessary to switch to the detail settings. The integrated disciplines, such as lighting, shading, heating, ventilation and air conditioning as well as other equipment, can be controlled together through these scenarios. For example, when selecting the projector presentation scenario, the blinds are lowered, the lights are dimmed, and the ventilation system is turned on. If needed, all settings and values can be edited manually on the detail pages for each discipline. Thanks to the intuitive user interface, even untrained users find it easy to navigate through the options.
However, the functionality of the Touch Panel solution is not limited to building automation. On request, additional content can be displayed, such as company information and logos, news, weather forecasts or the cafeteria menu. The user interface can be customized, taking into account style guides or corporate designs.
Based on web standards
The Touch Panel solution is based on web standards including HTML 5.0, JavaScript, iFrames and Scalable Vector Graphics (SVG) and runs on touch panels with Windows XP (Embedded) or Windows Vista. The SVG format ensures brilliant graphics regardless of display size. The solution includes a large graphics library with integrated functionality for room applications and can be adapted easily and flexibly to special customer requirements. Graphics and value displays can be placed anywhere on the different user pages. The pages can be displayed in any modern web browser without the need for additional plug-ins.
On the hardware side, customers can choose from a wide range of touch panel models since different screen diagonals, IP protection classes and materials are needed depending on the installation site and application. The web server with integrated BACnet/IP interface installed on the touch panel establishes communication between the Desigo V5 Total Room Automation solution and the user interface. No additional gateways, routers or other interfaces are needed.
Thanks to the web server integrated into the touch panel, the room automation system can be operated not only from the touch panel itself but also from other devices using a web browser, including tablet PCs, smart phones or workstation PCs.
The room touch panels are part of Siemens' Environmental Portfolio. In fiscal 2011, revenue from the Portfolio totaled about €30 billion, making Siemens one of the world's largest suppliers of ecofriendly technologies. In the same period, our products and solutions enabled customers to reduce their carbon dioxide (CO2) emissions by nearly 320 million tons, an amount equal to the total annual CO2 emissions of Berlin, Delhi, Hong Kong, Istanbul, London, New York, Singapore and Tokyo.