SADAFCO Launches Solar Power Project in Riyadh
After announcing its investment in a SAR 2 million solar power project in its Riyadh Regional Distribution Centre (RDC) last October, Saudia Dairy and Foodstuff Company (SADAFCO) has now commenced operations utilizing a photovoltaic (PV)-diesel hybrid system that can deliver up to 40 percent of the facility's daytime energy requirements.

"We are excited that the Riyadh RDC Solar Project is operational as it is a huge step towards becoming more sustainable," said Wout Matthijs, CEO of SADAFCO. "We are looking forward to find new ways to become more efficient and apply these learnings to other areas in which SADAFCO operates. This is not just about powering our business, but reducing our operation's carbon footprint in a way that is socially responsible."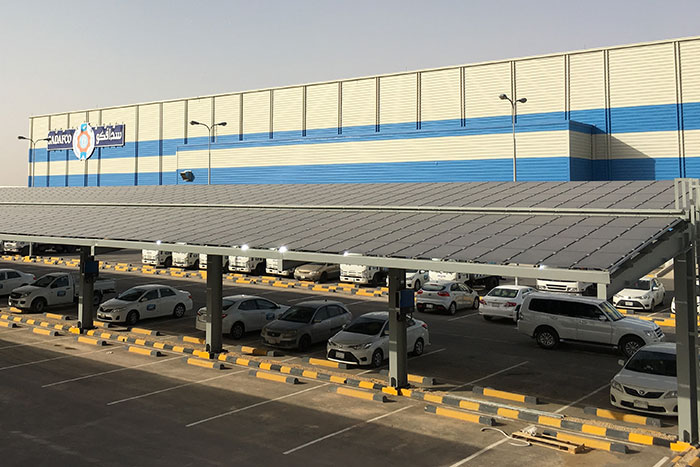 Covering a surface area of about 1,600 m2, over 2,000 solar cells have been installed atop the carport structures in the parking area offering the additional benefit of sun shade for cars. The project will operate high performance thin film photovoltaic modules from US-headquartered First Solar, Inc. These modules deliver more energy than conventional crystalline silicon panels, in the hot, humid and dusty conditions experienced in the greater part of Saudi Arabia. The hybrid system will not only result in cost savings from reduced diesel consumption on the generators necessary for an off-the-grid facility, but will decrease pollution as well.

"Furthermore, SADAFCO will utilise the most eco-efficient solar technology as it generates 226KW of power from the sun and combines it with output of existing diesel generators," added Matthjis. "According to a recent report by McKinsey, if Saudi Arabia pursues market-oriented, productivity-focused, post-petroleum reforms, it can double its GDP by 2030, create six million new jobs and raise household incomes by 60%."

The Riyadh RDC solar project was fully executed on Engineering, Procurement and Construction (EPC) terms by National Solar Systems Company, Saudi Arabia's leading solar system integrator which has a long record of successful solar installations through the Kingdom since 2004.

"The uniqueness of the RDC installation is that it has a hybrid diesel-solar configuration, which is the most complicated form of solar projects," commented Abdulhadi Al-Mureeh, Founder and CEO of National Solar Systems. "It utilises Fuel Saver Technology that reduces diesel consumption through advanced control algorithms between the solar energy output and the diesel generators."

Dr. Raed Bkayrat, Vice President of Business Development for First Solar, Inc. in the Middle East, said: "SADAFCO's ground-breaking initiative is an example for others to follow in Saudi Arabia and beyond. By utilizing unused space to generate electricity and lower its carbon footprint, SADAFCO has established a new benchmark for sustainability in the region."

While the solar project currently only affects SADAFCO's Riyadh RDC, it will provide the company with a framework and key insights on the possibilities of a wider implementation across some of its other locations, where relevant.