Saudi Arabia's imports of softwood lumber amounted to 1.07 million m³ between January and July 2015, a 24% increase over 2014
Dubai WoodShow 2016 to see huge turnout of Saudi trade visitors

Organisers of the 11th edition of Dubai WoodShow 2016, the largest trade fair for wood products in the Middle East which will take place from 4 – 6 April 2016, has revealed, quoting a recent study by Woodstat, a statistics firm that keeps tabs on the lumber and forestry industries across the world, that between January and July 2015 KSA recorded a 24% increase in imports of softwood lumber, compared with the same period of 2014. The Dubai WoodShow 2016 organisers attributed this increase to the construction growth and household wooden furniture demand in the kingdom.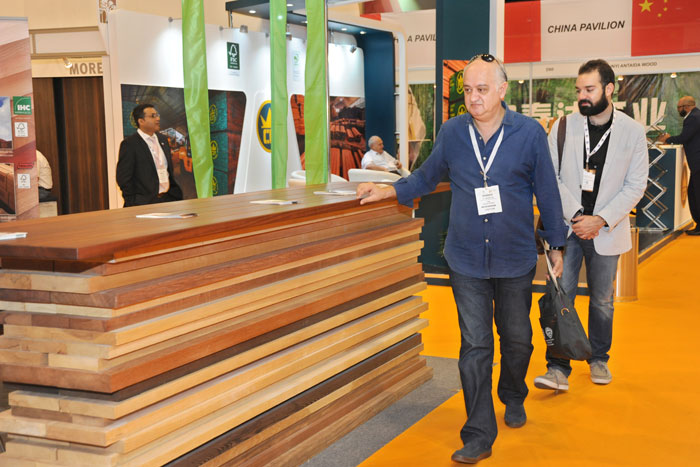 The study estimates the Saudi Arabia's imports 1.07 million m³ from main European and North American exporters. Moreover, a Euromonitor international report predicted wood production revenue to a achieve 64% growth until 2018, amid rising demand from construction industry and households in the Kingdom.

"This increase indicates a strong demand in the Saudi construction sector as well as the household and offices furniture," said Dawood Al Shezawi, CEO, Strategic Marketing & Exhibitions, organisers of the Dubai WoodShow. "The domestic demand for wood and wood products registered strong growth to cross SR11 billion. We are gearing up to see major deals at the next edition of Dubai WoodShow from the Saudi exhibitors and we also anticipate a huge turnout of KSA trade visitors."

He emphasised that traditionally Dubai WoodShow attracted thousands of Saudi trade visitors who look at it as a close venue to have access to wood products and accessories of topmost quality.

The three-day specialised show will also feature key innovations in the timber industry including modern technologies and products related to wood processing, such as mortising, tenoning, treenailing, beveling, gluing and inlaying.

"Lumber is usually cut from a tree at any stage to be mainly used in construction and paper. Dubai WoodShow will be a perfect platform for suppliers, manufacturers and machinery companies to showcase their products, innovative technologies, production scenarios and large scale machinery to key players in the wood and woodworking machinery industry in the Middle East and North Africa region," said Al Shezawi.

According to Al Shezawi, Saudi Arabia is looking to open up products of all types of wood including hardwood, softwood, fabricated wood boards, bendy plywood, laminated planks, and treated woods. "Against this construction sustainable growth in the kingdom, we will help manufacturers search for latest innovations in wood machinery over three days."

Organised by Strategic Marketing and Exhibitions, one of the leading exposition and conference organisers in the Middle East, the Dubai WoodShow is expected to attract a wide range of trade visitors from 4-6 April 2016 at the Dubai International Convention and Exhibition Centre (DICEC).

The 11th edition is set to put on display all kinds of both softwood products that are made of Cedar, Fir, Pine, Redwood; or hardwood products that are made of Ash, Birch, Cherry, Mahogany, Maple, Oak, Poplar, Teak, and Walnut.

"Dubai WoodShow is the premier destination for wood specialists who visit the show every year from across the globe. It has become the region's only dedicated business-to-business meeting place for the wood, wood accessories and woodworking machinery industry," concluded Al Shezawi.