Saudi's Construction Boom Calls for USD34bn Investment in HVAC R Systems
HVAC R Expo Saudi, Saudi Arabia's largest event dedicated heating, ventilation, air conditioning and refrigeration (HVAC R) industry, will return to for a 5th edition at Riyadh International Convention & Exhibition Centre from 11 – 13 February 2020, announce event organisers dmg events.

The announcement comes as opportunities for HVAC R stakeholders in the Middle East market are growing exponentially. GCC investments in HVAC R systems over the next decade is estimated to exceed $68bn in total, according to a recent report published by dmg events and MEED Projects.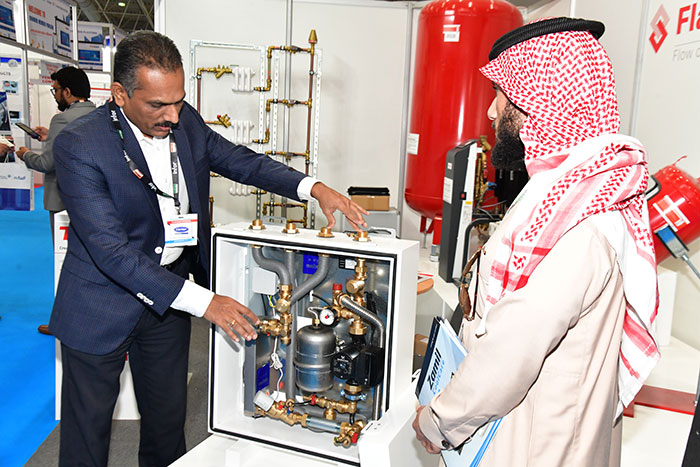 As for the Kingdom itself, Event Director for HVAC R Expo Saudi, Roni El Haddad said: "On the back of a construction boom in the country, Saudi Arabia alone represents over 50% of the total needed investments for HVAC R solutions in the GCC over the next 10 years, with $34bn worth of systems expected to be installed in that time.

He adds: "As demand increases the market will need to develop in line with government goals such as energy conservation and smart initiatives, making it the perfect time for the local and overseas industry to gather under one roof at HVAC R Expo Saudi."

Expecting to host over 80 exhibiting brands from around the world, HVAC R Expo Saudi is the region's largest, three-day event presenting an unmissable platform for HVAC R industry professionals to network, do business and discover new technologies.

H.E. Mr. Saud Nasser Al Khusaibi, Secretary General of GCC Standardization Organization (GSO) comments on their official support toward HVAC R Expo Saudi: "The mission of GCC Standardization Organization (GSO) is to unify standardization activities among the GCC member states in order to promote industry and to boost sustained development of the collective economy in turn. Such activities adhere to the best international practices, and contribute to the protection of the customer, environment and public health."

He adds: "In light of this mission, GSO is participating at HVAC R Expo 2020 to provide the Kingdom's industry professionals with an overview of the latest technical legislation requirements applying to them and their field, and to encourage growth and development in the HVAC R sector"

Products on display at HVAC R Expo Saudi will relate to climate control, air quality and ventilation, air conditioning, refrigeration and heating, HVAC equipment and services, and building automation. Industry heavyweights already signed up to exhibit include the likes of Carrier Middle East Equipment, Zamil Air Conditioners, Alessa-Samsung-Crafft, Conex Banninger, and for the first time GreenAire, to name but a few.

Vineet Kashyap, Managing Director, Carrier Middle East Equipment said: "We are happy to participate in this annual forum as KSA is a key geography for us and we are very committed to the segment. We get to meet customers and regulators during the HVAC R Expo and explain our offerings to them, while learning from their experience of what they need."

To encourage the transferring of knowledge at the event, HVAC R Expo will once again feature 30 free-to-attend and CPD (Continuing Professional Development) workshops. Running across two theatres, workshops will be split between the Master Class series and Training Theatre sessions.

The Master Class series will offer a first hand-look at new solutions and innovations in the HVAC industry, delivered by manufacturers themselves, whereas the Training Theatre sessions will delve into the latest trends and approaches in the worldwide market, presented by consultants and regulators in the field.

Organised by dmg events LLC, HVAC R Expo is sponsored by Carrier (Platinum Sponsor), Zamil Air Conditioning (Gold Sponsor),Alessa-Samsung (Gold Sponsor), Alessa-Samsug (Workshop Sponsor) and Alessa-Crafft (Official show catalogue Sponsor). The event is supported by GSO and co-located with FM EXPO and Saudi Clean Expo and Stone & Surface Saudi. The events are held from 11 – 13 February 2020 at the Riyadh International Convention & Exhibition Center.
@HVACR_Expo #HVACR_Expo